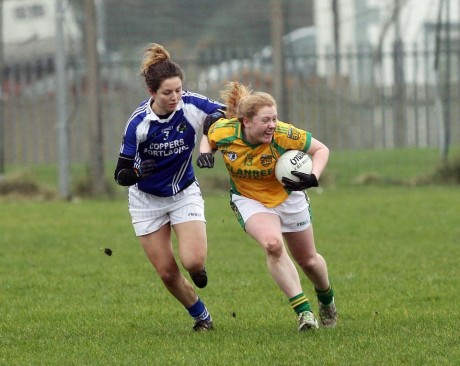 AMBER Barrett is excited for the future of ladies football in Donegal.
The Milford woman scored 3-3 on Sunday as the ladies began their Division 2 campaign in style thanks to a whopping 6-16 to 0-7 win over Down in Newry.
In the absence of the injured Geraldine McLaughlin, there had been fears that the Donegal ladies might struggle for scores – but with Barrett on board again they can rest easy again.
A talented dual player, who plays soccer for Peamount United and who has been capped all the way up to Under-19 level with the Republic of Ireland, Barrett is aiming high with the Donegal ladies this year. Owing to her international commitments last year, Barrett missed a large swathe of Donegal's campaign, but is back in harness – and could strike a fearsome and formidable attack this year.
With McLaughlin expected back towards the end of the League season and with Yvonne McMonagle to return to the panel once she jets back from Australia, Donegal could line out with three of their top forwards from recent seasons – who've yet to play together.
"That's what I want to do," says the 19-year-old student.
"If you think back to when Yvonne was flying around 2010, Geraldine would have looked up to her when she was coming through. I look up to the two of them. I'm buzzing and it's so exciting. I'd love to play alongside them.
"Geraldine is a huge loss to any team. There's no denying that she's magic on the ball and we can't wait until she's back. I've only probably played three or four times with her. I can't wait to play along with her."
Barrett has experienced the professionalism of away trips with the Irish teams and has been impressed with the winter work conducted with the ladies by new manager Davy McLaughlin and the trainer, Sean O'Kane.
She says: "I missed a lot of last year because of my commitments to the Ireland Under-19s. It was a disappointment not to play with Donegal in their big games, but Davy and Sean have been doing such good work
"Usually with women's sport, people would maybe think they're there to take it handy and it's like: 'Ah, go easy on them'. That's totally not the case.
"The Cork women have had a professional set-up for years – and that's why they've been miles ahead. Davy came in last year and basically told us to have a bit of cop-on, to be professional about it and we've been a different outfit since. You can see how mature the younger girls on the panel are. Everything is taken so seriously now.
"We know ourselves that we have some of the best footballers around, but what's probably let us down is the level of training and attitude – that has all changed completely now."
Barrett was first drafted into the Donegal senior squad when she was just 16 by then manager Hughie Molloy.
She says: "I was so young and coming in against teams like Cork, Monaghan, Tyrone and Kerry – but that's where you want to be.
"You think sometimes that you're at a high standard and then you just get the shock. This year is totally different. When I get the ball now, I want to take a couple of steps rather than just get rid of it."
Barrett's talents have always been obvious. Ahead of the Ulster Minor final of 2013, she was on international duty with Ireland and wasn't long back before Donegal faced Cavan in Ballyconnell. Barrett was taken off the bench – and scored a stunning four goals and a point in a 6-6 to 2-8 win.
On Sunday in Newry, Barrett hit a deadly hat-trick, with Niamh McLaughlin, Eilish Ward and Niamh Hegarty also netting goals.
It was the dream start for a side whose confidence surely took a battering in 2014, even if their term did end with promising signs.
Barrett says: "We lost the last nine games we played before Sunday – with any team that's not a run you want to be associated with. There was a lot of emotion when we got the win because you wait so long for something.
"We started work early. We were in doing work with Adam Speer from September – the All-Ireland final hadn't even been played and we were up and running. We've come on a lot. We're stronger and fitter. We have to be.
"It was a great result on Sunday against Down, but it's just a start. We want to keep improving."
Barrett and Donegal face Armagh on Sunday, in a game that was postponed two weeks ago because of the bad weather. A venue for this weekend's rematch had yet to be confirmed at the time of going to press, but Barrett and company are hoping to take the scalp of the Ulster champions, who scored a huge win themselves on Sunday, defeating Westmeath 6-12 to 1-10.
Barrett is on the books of Peamount United. Last year, she scored twice for Lagan Harps in their 8-1 win over Tipperary Town in the WFAI Junior Cup final and her ultimate aim is to take a call from Sue Ronan, the Republic of Ireland senior women's team manager.
For now, she'll keep juggling – and is thankful to both Donegal manager McLaughlin and Peamount boss Robbie Mulligan for their understanding.
"At the minute, when there is a clash the Gaelic football is getting the preference," she says. "Come the summer it'll be 100 per cent. The Peamount guys have been more than good. Davy has been the same and he's known since the end of last year. I'm under no pressure and I'm not being pulled in either direction."
Posted: 5:00 pm February 14, 2015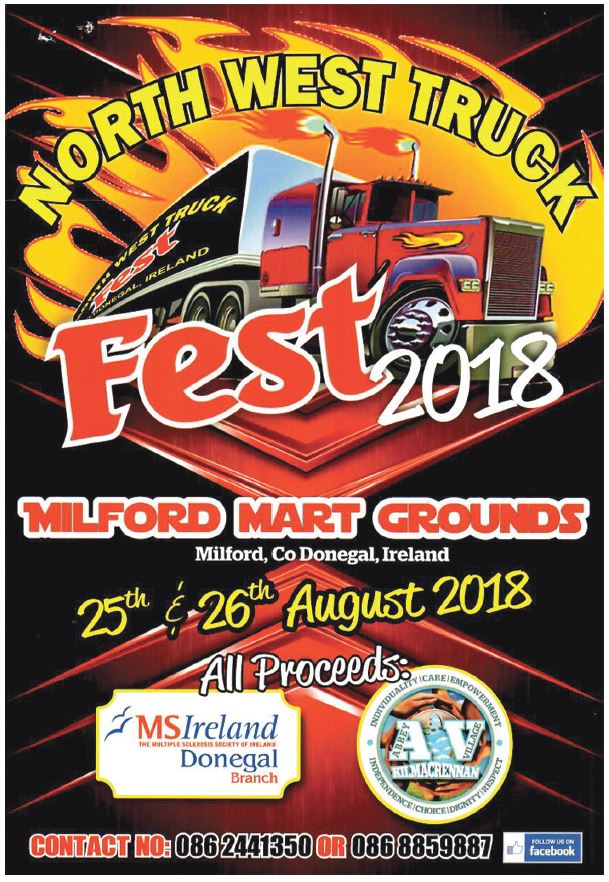 The North West Truck Fest will return to Milford this weekend with thousands expected to attend. The Festival, now...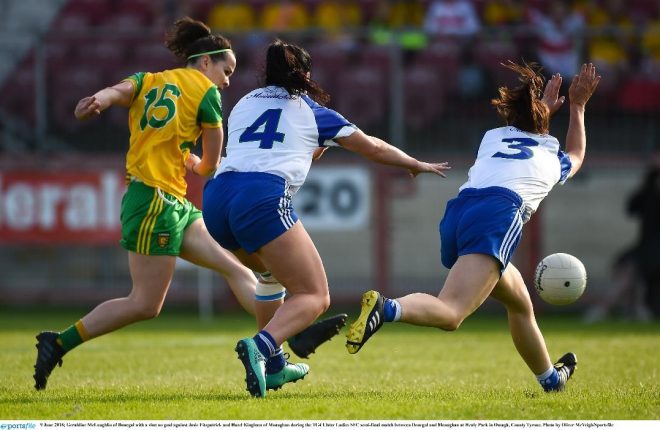 Geraldine McLaughlin is back to her devastating best and is gunning for Ulster SFC glory once more.
A talented Donegal GAA player, Amber Barrett took the decision to concentrate on the Ireland Women's football team last...