AN "utterly pathetic" row between two warring Letterkenny families, over a fence, ended in one woman being convicted of assaulting her pregnant next-door neighbour.
The same woman, Josephine O'Donnell of 45 Ashfield, Carnamuggagh, was also convicted of assaulting the woman's husband, Niall O'Connell, at 44 Ashfield on January 13, 2013.
The case was heard at Monday's sitting of Letterkenny District Court where Mr O'Connell, of 44 Ashfield, was also convicted of assaulting Ms O'Donnell and her husband, Gary.
On the other hand, Gary O'Donnell was also found to have assaulted Niall O'Connell.
An angry Judge Paul Kelly expressed his shock and disgust that the daytime brawl was witnessed by the O'Donnell's then three-year-old son.
CCTV footage, installed on the O'Connell's property, showed Niall O'Connell ending up on the bonnet of his car before he clearly punched Ms O'Donnell twice. She retaliated by kicking him a number of times. The footage also showed the O'Donnell's extremely distraught son on his knees, screaming and crying during the brawl.
Inspector John O'Toole told the court Gardai received reports of assaults from both parties at around 5:30pm on the day in question.
The assaults occurred on the property of Niall and Rebecca O'Connell following a long-running dispute between both families.
Inspector O'Toole said the latest rift was as a result of a fence being erected between both front gardens by Gary O'Donnell. It escalated after O'Connell started pulling planks off the fence which, he claimed, was encroaching onto his property.
As a result, Mr and Mrs O'Donnell climbed over the fence and followed O'Connell to the side of his property where a fight broke. This part of the dispute was not caught on camera.
The Inspector said Ms O'Donnell was taken to Letterkenny General Hospital (LGH) where she was treated for minor injuries. Ms O'Connell, who was 33 weeks pregnant at the time, also spent a night in hospital, as a precaution, after she was pushed to the ground by Ms O'Donnell. Both men also suffered minor bruising.
Investigating Garda, Gerard Fee, told Judge Kelly the brawl as "out of character" for all involved.
Solicitors for both parties were Ms Fiona Browne for O'Connell and Mr Niall Sheridan for the O'Donnells.
Mr Sheridan said his clients did not deny the row with Mr O'Connell took place, but strongly denied that Ms O'Donnell assaulted Ms O'Connell.
Ms Rebecca O'Connell said  her husband became angry after seeing the fence had been erected. When the O'Donnells returned home, he pulled some timber off the fence. Ms O'Connell said she then saw the O'Donnells "jump over the fence into our property" and followed her husband to the side of their house before attacking him.
"Mrs O'Donnell then rushed up to the door and started shouting abuse at me, then she pushed me in the stomach and I fell and landed on the floor of the house," Ms O'Connell said.
She added that her family was in the process of moving house at the time as they could not "take the abuse and harassment any longer."
Under cross-examination from Ms Fiona Browne, Ms O'Connell said they erected CCTV because they were being harassed by the O'Donnells.
They now live in a rented house as they lost the family home after going through an insolvency process.
Mr O'Connell gave evidence that he believed the fence to be on their property so he "took a few bits of."
While this was taking place, O'Connell claimed that Ms O'Donnell was "roaring abuse" at him out of an upstairs room before her husband came out the front door.
He said the O'Donnells proceeded to follow him on to his property. Mr O'Connell said some pushing and shoving between himself and Mr O'Donnell ensued before Ms O'Donnell hit him on the back of the head.
"Then I lost it and started flailing in every direction," he said.
"They were laying into me and I fell down and he got on top of me, then she kicked me in the groin.
"I managed to get up, then she pushed me again and I lashed out at her and that's what was seen on the CCTV."
He said he discovered later that Ms O'Donnell pushed his pregnant wife in the stomach.
He denied, under cross-examination from Mr Sheridan, he denied that he pulled the planks off the fence before telling the O'Donnells to "come and get it."
Gary O'Donnell  said they returned home after a family day out with their two children, aged two and 18 months.
He said his wife went upstairs when she saw O'Connell pulling timber off the fence and she shouted at him to stop.
"I asked Niall O'Connell to give the planks back but he shouted 'come and get it' and walked around the side of his house."
He said he rushed  to get the planks but O'Connell "struck me a severe blow to the head." O'Connell, he added, proceeded to pull his jacket over his head and started to hit him.
"He then broke my nose and my glasses before he turned on her, then I saw him punching my wife."
O'Donnell said he could see his young son was on the footpath in front of O'Connell's house and he was very distressed, so he told him to stay where he was.
Ms Browne put it to Mr O'Connell that he should have been more concerned about his two young children than a few planks off his fence.
She pointed out that medical reports showed that O'Donnell's nose was bruised, and not broken.
Josephine O'Donnell said a "bit of a scuffle" started at the side of the house before O'Connell started kicking and punching her husband prior to turning on her.
"I could see my three-year-old son on the footpath while all this was going on. He (her son) is still traumatised by it," she said.
She said she received a busted eye as well as bruises to her arms and legs.
She said "I'm not a fighting person" when it was put to her that she should have been looking after her children instead of rowing with neighbours.
Ms O'Connell denied assaulting Ms O'Connell.
The court heard O'Connell had three previous convictions for public order related offences and that Mr O'Donnell had been given an adult caution in 2013 in relation to the ongoing dispute with his next door neighbours. Ms O'Donnell had no previous convictions.
Describing the case as "utterly pathetic", Judge Kelly said it was clear  that neither side was prepared to give an inch.
"What I find most distressing is that a three-year-old child is watching his parents behaving like this and neither (of the O'Donnells) pay the slightest bit of attention to their son. They are only intent at getting at Mr O'Connell and that is the most disturbing aspect of this case."
He added that that Ms O'Donnell's assault on Ms O'Connell must have been a frightening experience for the latter as she would have been more than concerned for her unborn child.
Judge Kelly said that both families should have exhausted other legal avenues as "nothing justifies physical interaction."
He said it was good that the families no longer lived side by side.
Judge Kelly found all the accused guilty of assaulting each other as well as finding Ms O'Donnell guilty of an assault on Ms O'Connell.
All three were also bound to keep the peace for one year and fined €200 each.
For full report, see today's print edition of the Donegal News or subscribe to our digital edition.
Posted: 12:17 pm January 23, 2015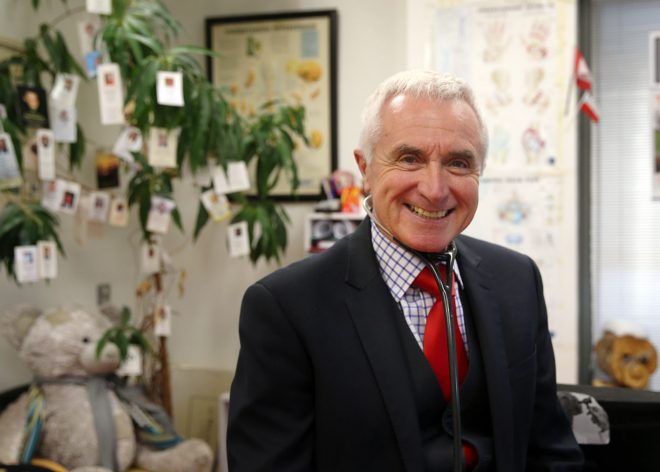 Letterkenny based GP Dr James McDaid said that an 'awful' lot of people across Donegal were using benzodiazepines.