BY SEÁN P. FEENY
THE Chairman of Glenties Community Action Group has its campaign to have a local bridge rebuilt has now gone to national level.
Mr Brian Carr was speaking to the Donegal News yesterday afternoon following the staging of a 'mock accident' on the town's Main Street.
The event was organised to highlight the issues created since the collapse of Mullantyboyle Bridge almost five years ago.
The narrow structure collapsed four-and-a-half years ago, in August 2010, when a heavily loaded lorry was diverted over it. Glenties Community Action Group has always argued that lives could be lost if the bridge, that offered the only detour around the town, is not replaced.
The chairman of Glenties Community Action Group praised the large turnout of an estimated 300 people, or more, who attended from Glenties, Ardara and surrounding areas, including local representatives.
See tomorrow's Donegal News on Monday for full story.
Posted: 7:07 pm January 18, 2015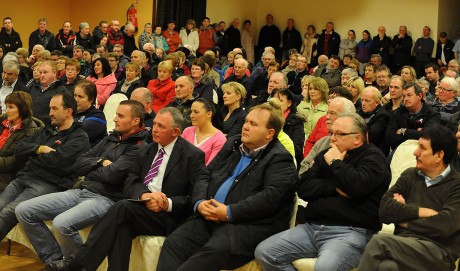 By Harry Walsh LAST night, the people of Glenties and surrounding areas gathered to say sorry to pensioner Gerry...