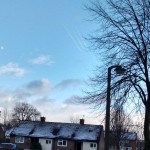 BY C.J.MCGINLEY
THE Irish Aviation Authority has confirmed two Russian military aircraft, shadowed by a number of British fighter jets, flew through Irish controlled airspace off the west coast on Wednesday.
The planes were 50 miles off the Donegal coas. On Friday three US military aircraft were seen in the skies over north Donegal and was commented on extensively through social media here in the county.
They were on a flight to a military base in Britain and had been refuelling when they were spotted over Donegal.
Posted: 1:54 pm January 31, 2015