ON October 30 at 6.45am, Lorraine Boyce from Letterkenny reached Uhuru Peak of Mount Kilimanjaro, the world's highest free-standing mountain, known as the 'Roof of Africa'. 
"In terms of travels, it was definitely a first for me. No need for bikinis, flip flops or high heels! Armed with hiking boots, all weather gear and trekking poles,
"I was bound for Tanzania in Africa. The highest peak I had climbed before that was Errigal in our own lovely county, standing at 751m, so the thought of climbing 5,895m was definitely daunting and I had no idea what to expect."
Lorraine had a preview of what was ahead of her and her team through the window of the plane as they flew into Kilimanjaro Airport.
She said: "An impressive sight, towering above the clouds, it was difficult to believe that we would be standing at the peak of it within a few days.
"We followed the Lemosho Route which takes seven days to complete, each day being completely different as the terrain on Kilimanjaro is so variable, with rain forest, heather fields and the rockier higher ground which leads to the great peak itself." 
Lorraine thought that the physical element of climbing itself was going to be the most challenging part, but in reality, it was camping in the great outdoors which was the most difficult.
"Our campsite was flooded the first night, and I suppose in the rain forest, it really could be expected. It did mean, however, that a flow of muddy water was passing through our tents, making us all a bit subdued in camp that night.
"The mood was lifted as the porters who were accompanying us had prepared hot drinks and popcorn in the mess tent and they did a great job of diverting the streams of water away from our tents. As we climbed higher, the efforts and sunny attitude of all the guides and porters were what made the difference in terms of realising our goal of reaching the peak.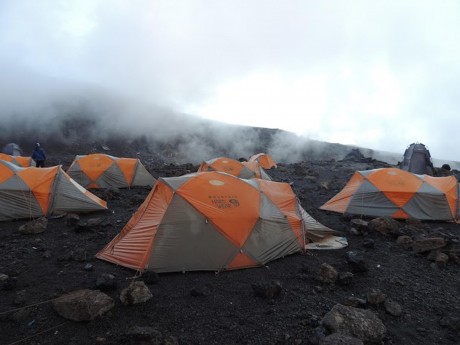 "It was phenomenal the amount of gear they carried up the mountain, overtaking us at fast pace while we were huffing and puffing and struggling forward.
"All with a smile and a greeting of 'jambo!' meaning hello in Swahili. I thought I knew a good honest day's work here, until I met the porters. All credit to them," she said.
FRIENDSHIPS
For the young Letterkenny physio, it was the other people who made the trip what it was, the other climbers in the group, as well as their medic and guides.
She said: "You'd wonder how a handful of people who had never met before could find enough to chat about to fill seven days, but you would think we had known each other for years by the general banter and how we passed our days chit-chatting and playing many a game of 'twenty questions'. But great friendships were made, and I have to mention my good friend, Nicola Doherty who accompanied me on the trip.
"At one point, we overheard some people talking about a back-up plan they had made about what they would do if one person couldn't continue, whether would they stay together or part ways so that the other person could still reach the peak.
"I remember myself and Nicola looking at each other, realising that we hadn't even considered the possibility that we weren't both going to make it to the top. And to the top we made it, baby steps at the end, nursing a sick stomach and sore heads, but we did make it. And I genuinely don't think I would have managed to reach the top without her. We all 'hit a wall' on the climb at different stages, and for me it was the morning of day four.
"I think it was a combination of feeling so far away from my family and my boyfriend Barry, cold, tiredness and altitude.. but everyone comes together to help you through if you're struggling and it genuinely makes all the difference." 
With phones so handy at your fingertips back at home, Lorraine said it definitely was 'a shock to the system' to have next to no coverage on the mountain.
"In some ways it was nice to have a break from Twitter, Facebook and e-mails etc. It meant that there was a great atmosphere in the evening in the mess tent having our meals as everyone had your full attention and nobody was distracted with a phone in hand.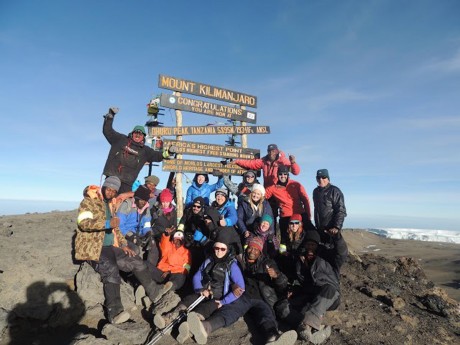 "We were able to find a fraction of coverage at one or two points, so that we could send a message home but it certainly was a sight to see us all huddled onto the top of one large rock, phones waving in the air trying to get a signal at this hot spot of coverage."
As they climbed, the group came across the remembrance plaque for Irish mountaineer, Ian McKeever, who died when lightning struck him near the Lava Towers of Mount Kilimanjaro in 2013. He once held the record for the fastest completion of the Seven Summits Challenge and set the Five Peaks Challenge world record.
He had founded the Kilimanjaro Achievers Organisation and led expeditions to Kilimanjaro for Irish Secondary School Students with a 100 per cent success rate of reaching the summit.
Lorraine said: "It was a reminder of the power of the mountain and even experienced climbers can feel its force. Ten deaths per year are reported on average on Kilimanjaro with hundreds experiencing severe mountain sickness.
"Even within our own group, one of our climbers was forced to retreat farther down the mountain during our summit night climb due to severe hypoxia (lack of oxygen) and we all experienced varying degrees of nausea and headaches." 
For the summit night climb itself, preparation was key, Lorraine said. "Having your backpack well organised so that any essentials were at hand quickly was very important.
"Making sure that you had some provisions in place to prevent your drinking water from freezing was important and having chemical hand warmers in your thermal mitts was also a great advantage as the temperatures tend to drop to -10 near the peak.
"The climb that night is steep and slow, but again, the porters were so supportive, breaking into song if they thought our mood was fading or offering to assist us with our gear if we were struggling. Kilimanjaro is a crater and so we reached the rim of the crater at Stella Point just as the sun was rising, allowing us a spectacular view over the glaciers, before we trekked around the rim of the crater to Uhuru Peak with the very welcome famous sign we had all so desperately wanted to see! 
"Nicola and I decided to stay in Tanzania for a week for a bit of rest and relaxation after the climb, and during our flight over to the island of Zanzibar, the pilot announced that we were cruising at 21,000ft. I looked out the window and everything seemed so small below. This put it in perspective for me, as Mount Kilimanjaro is 5,895m or roughly 19,000ft, not far off what we were flying at.
"At the main gate of Kilimanjaro and at each camp you enter, you sign your details into a large ledger book for the National Park's records, and I find it nice to think now that even as I get back into a routine of daily life here at home, my name and details will always be there to mark that I completed my climb," said Lorraine.
 
Lorraine Boyce is the owner of Lorraine Boyce Chartered Physiotherapist. To find out more you can visit www.lorraineboycephysio.ie
Nikki Bradley is the founder of Fighting Fit For Ewing's, a campaign to promote awareness of Ewing's Sarcoma. Nikki is sponsored by All Sports in Donegal Town. Support her campaign by giving 'Fighting Fit For Ewing's' a LIKE on Facebook or follow her on Twitter @nikkibradley59
Posted: 3:30 pm January 23, 2015