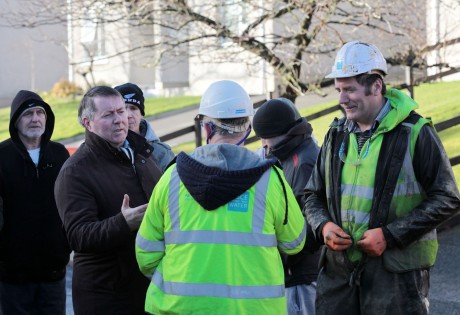 BY C.J.MCGINLEY
FURIOUS residents have accused Irish Water of 'riding rough shod' over the wishes of local people in a housing estate in Letterkenny.
A stand-off erupted between irate residents and GMC Sierra staff when they began work on putting in water meters at Thorndale on the outskirts of the town on Tuesday morning.
It was the first time Irish Water moved to install meters in Letterkenny and followed a series of angry protests and stand-offs with residents in the Castlefin, Killygordon, Ballybofey, Drumkeen and Dungloe areas before Christmas.
Distraught residents at Thorndale claim workers 'laid siege' on the estate shortly after dawn barricading it off with fencing, blocking roads and cutting off water supplies to homes without prior notice.
Sinn Féin Cllr Gerry Mc Monagle was called by residents when Irish Water contractors began working there without warning on Tuesday morning.
He claims he was given commitments that people would be consulted, but those were not followed through, adding that is not the way a State owned company should be operating in a democracy.
"Residents have been blocked in. The estate was turned upside down. Footpaths were dug up and entrances to houses blocked," he said.
"We asked staff to produce appropriate permits and documentation but they didn't do so. I was given an assurance by senior staff they wouldn't put in a meter where it wasn't wanted, but they ignored my requests. So much for democracy. ," he said.
Posted: 3:18 pm January 6, 2015