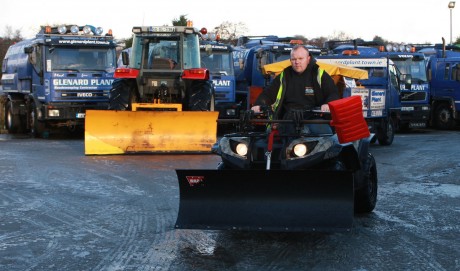 A HOBBY welder thought he would never get rid of four snow ploughs he made following the chilly winter of 2011.
When, following Tuesday night's wintry showers, he placed an ad on the internet and sold them all within a day.
The man, who did not wish to be named, told the Donegal News on Friday of his delight when he saw the first snowflakes fall.
"I made them four years ago and it has barely snowed since – I thought I'd never get rid of them. But, once the snow started to fall on Tuesday night, I place an ad on www.donedeal.ie and they were gone a day later."
The new owner is Letterkenny-based road sweeping and maintenance contractor, Glenard Plant.
Company spokesman, Eamon Russell, said they used to hire in snow ploughs, but were on the lookout for ones to purchase for some time. However, after seeing the ad on Done Deal, and following Tuesday's snow, they decided to make a move.
"Once we bought them, they went into action straight away," he explained.
"There has been a massive demand for our snow ploughing service all week. We have been clearing driveways, footpaths and small car parks, almost around the clock. I was out clearing a car park at 2 am during the week, but I got a call at 7 am to come back out as it started snowing again. It's really hard work, but we are glad to be so busy."
Mr Russell said the ploughs are mostly in operation in and around Letterkenny, however, they have a contract to clear the Aldi car parks in Buncrana and Dungloe too.
"We have been getting a lot of calls over the last few days, especially when people see our snow ploughs in operation. We also have a small plough on a quad motorbike which is used for footpaths and small yards and driveways. We provide a gritting service too," he concluded.
Posted: 10:33 am January 19, 2015