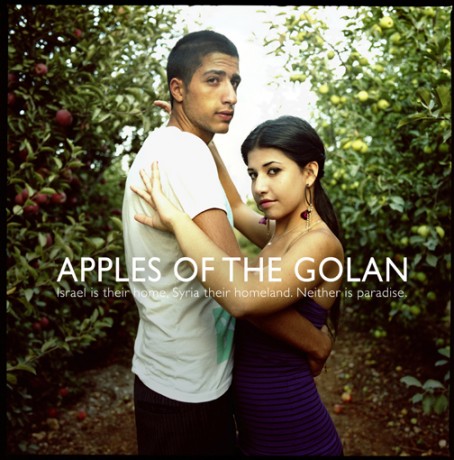 Una McCrory
A colourful and poignant tale of freedom fighters, rappers, brides, salsa dancers, apple growers, holy men and traitors will unfold at the Regional Cultural Centre next Thursday night.
'Apples of the Golan', made by Irish film-makers Keith Walsh and Jill Beardsworth reveals a unique portrayal of a complex community in an Arab village in the Israeli-occupied Golan Heights. Majdal Shams is one the five remaining villages out of 136 in the region, that still exist following the Six Day War in 1967 when Israel captured the territory from Syria, formally annexing it in 1981. The film depicts the families and a community striving to retain their heritage while maintaining a livelihood amid continued political turmoil. It also captures the effects of the civil war in their ancestral homeland of Syria has on the villagers.
Filmed over five years, Keith and Jill have created an intriguing testament to a place where, state the film-makers: "Majdal Shams and its people fight to retain their national identity," and where, "they are all connected to and owe their existence to the apples which grow all around the village. In many ways, as their resistance to occupation is generally peaceful-the apples are their bombs." The directors will attend the free screening there will be a question and answer session with the audience.
The evening is part of a new and exciting initiative – 'Art of Resistance' – a group who banded together, unified in their quest to highlight and therefore promote a discourse on civil rights abuses. Powered by a mix of artists, photographers, writers, actors and musicians, 'Art of Resistance' is intent on shining a spotlight on the injustices of the innocent rendered mute and ignored by the mainstream media and world wide indifference.  Asked why create 'Art of Resistance', founder member Bernadette Hopkins, from Milford, told the Donegal News why: "I was so shocked at the killing of civilians and children and the lack of human rights in Gaza last summer. I was shocked that major world powers were bypassing the UN Human Rights Charter and not being held accountable. I was shocked that big powerful governments were using their veto to stop any action by the UN, thereby creating a situation whereby human rights are only being protected when it suits major world powers. This is not either humane or democratic.
"I approached five other people who live locally and whose work I consider 'conscious'. We had weekly meetings to agree on our mission and vision. I think it is necessary to have such a collective that can give an alternative to mainstream media. Many TV stations and newspaper groups are now ultimately owned by corporations or they are controlled by governments who have their own agendas. In essence I believe much of what is in the mainstream media is censored by way of omission. Art that conveys what the establishment wants to hear is permitted. Art or artists who raise questions that ruffle feathers are too often omitted. Art is powerful. Artists have been considered outsiders because they question society. They are seen as dangerous like artist Ai Weiwei locked up by Chinese government and that is because Art has the power to open up debate and create a shift in the way society thinks."
As a visual artist, Bernie personally experienced censorship. Her paintings have been vetoed and excluded from two exhibitions. She says: "I had two shows taken down because two men did not agree with the work- the subject was  the female nude but quite abstract, not at all explicit and painted from a female perspective-that is- not objectified. I realised then that it was the message behind my paintings that caused the fuss- female empowerment." Which is why Art of Resistance has emerged to counteract this type of  prejudice. In a collaborative statement the AoR say: "We aim to use the power of collective, peaceful, creative resistance to break down barriers to communication and promote empathy, tolerance and freedom of expression."
'Apples of Golan' is the first of a series of events which will take place throughout the county this year. Another member, also from Milford, Kathleen McCreery, a theatre director and writer says: "We want to reach out to a broad audience: people of all ages and all backgrounds. We hope that people may come to an event because they are interested in a particular art form, or want to know more about Palestine or Africa or Mexico, or want to show their solidarity with those who are suffering injustice. We'll show films, organise workshops, exhibitions, theatre performances and readings, and encourage constructive discussion. We are not affiliated to any political parties or organisations, and will not be partisan in our approach. We will reach out to artists in Ireland and in other countries. We have much to learn as well as contribute through our own practice and we will do our best to provide a platform for artists committed to exploring art which contributes to resistance to oppression." What message would she ultimately like to convey? "We are not helpless. We can make a difference," she says.
"You can't underestimate the serious power of art and film to communicate," declares Keith. The Waterford man welcomed the Donegal's group endeavour in promoting and stimulating debate. The director cites how deeply the French film 'La Haine' effected and inspired him. The film made in 1995 depicted the lives of three disaffected youths-an arab, a jew and one black in the banlieues/ghettos of a city. The film, which translates as 'Hate' created such a profound reaction in France that the then Prime Minister, Alain Juppe, responded by screening it for his cabinet and demanded all ministers attend. Given recent events in Paris it seems a second viewing maybe required 20 years later. 'Apples of the Golan' also depicts  a displaced community and both Keith and his wife Jill have carefully curated the lives of the people of Madjal Shams beautifully. 'The Valley of Tears' is where families from either side of the border come to meet for funerals or weddings, as neither can cross the border relations have to shout and cry out to each other across a 400m chasm," says Keith. "They will bring coffins," said Keith. The film has been seen internationally and it will be the first time it will be shown in Donegal. The couple are looking forward to their visit. Keith has worked in Ardara for the then TnaG recording the Irish speaking older generation for its archives in 2000. Jill, from Sligo spent many "family holidays up in Portnoo". They now live in South Galway and are currently working on "poetic meditation" on another interface along the Clare/Galway border.
Art of Resistance can be contacted on their FaceBook page. Founder Members are: Ruairi Friel – musician and songwriter, Rik Walton – photographer, Fadl Mustapha – actor and arts organiser, Mark McCollum- community arts, theatre organiser, Bernadette Hopkins – visual artist and Kathleen McCreery – theatre director and writer.
Apples of the Golan presented by Art of Resistance and Wildcard Distribution
Regional Cultural Centre, Letterkenny
Thursday 22nd January at 7.30pm
Admission. FREE and Refreshments with be served. The screening will be preceded by a a welcome and introduction to the new Donegal based 'Art of Resistance Collective'.
Posted: 4:17 pm January 19, 2015