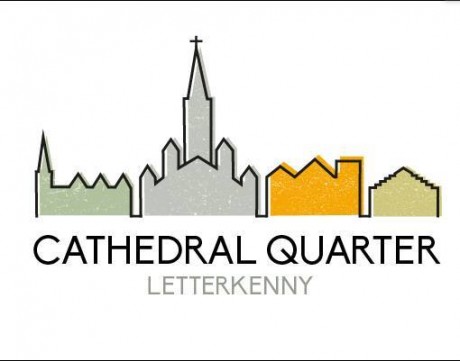 THE team behind the revival of Letterkenny's Cathedral Quarter are hoping that some talented locals can provide them with an inspiring art installation in the run up to Valentine's Day.
Artists, schools and individuals of all ages are invited to take part in the new 'I Heart CQ' initiative. Launched last week by Letterkenny's Cathedral Quarter committee, the outdoor art installation was set up to inspire love all around the Letterkenny's Cathedral Quarter. Art pieces submitted will be showcased around the Cathedral Quarter in the run up to Valentine's Day and the community is welcome to come along and view the installations.
The campaign was developed by the Cathedral Quarter Committee to celebrate the Cathedral Quarter area which is the heart of Letterkenny. The inspiring art pieces submitted must include the following hashtag 'iheartcq' and participants should upload images of their creation to the 'Save The Church Lane' Facebook page. Following this, a member of the Cathedral Quarter committee will collect the art creations and place them safely along the lane in local business windows. The submissions will be judged by Berlin based Artist Selena Mowat (finalist Sky Portrait Artist of the year 2014) and there will be prizes for the best three entries in each category-school, artist and individual.
Donnan Harvey, Secretary of The Cathedral Quarter Committee said: 'The 'I heart CQ' campaign is an inspiring way to involve local artists, schools and individuals. We wanted to mark Valentine's Day as we're very passionate about the Cathedral Quarter and we wanted to showcase the very best that Letterkenny has to offer. We're looking forward to seeing the host of submissions and seeing the creativity from people right here on our door steps. At Christmas, we ran the 'White Winter Christmas Garden' campaign, where local schools designed window boxes for the lane. We're hoping that the 'I Heart CQ' produces some more lovely pieces for the area.'
The Cathedral Quarter originally began as the Save the Church Lane campaign. Since its formation last year, the project has gathered significant momentum in its efforts to regenerate the historical Church Lane. The long term goal is to create a hidden treasure in the heart of Letterkenny for locals and tourists to enjoy.
For more information on the 'I Heart CQ' campaign, log onto www.facebook.com/SaveTheChurchLane or contact Amanda on 0863443416.
Posted: 12:13 pm January 26, 2015