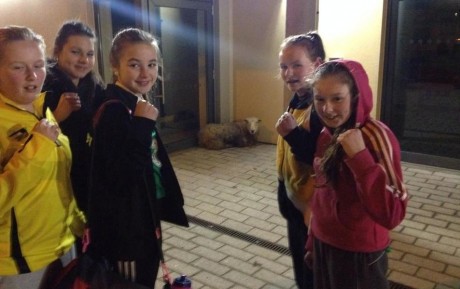 THEY'VE had many opponents trying to pull the wool over their eyes, but these members of Finn Valley ABC, home club of pro boxing star Jason Quigley, got quite the shock as they left training at The BASE on Monday night.
As they left their new gym following their Monday night work-out, members found a somewhat sheepish opponent ready to weigh in! Finn Valley ABC's Sharon Scanlon, manager of the Donegal Female squad for their win against Mayo last month, took this snap of club boxers Caitlin O'Loughlin, Inga Simane, Leah Gallen, Leona McBride and Patricia O'Brien-Quigley.
On Sunday, Gallen and O'Brien-Quigley won titles at the Donegal Open Championships so it could have been a very real case of a lamb to the slaughter!
Have you a quirky photo from your locality? Send them to us via the Donegal News Facebook page!
Posted: 3:47 pm January 20, 2015