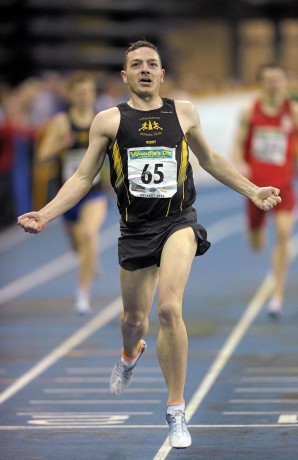 BY HARRY WALSH
THERE were a number of stand-out Donegal performances at the Irish National Junior and U23 Indoor championships in Athlone yesterday.
2015 represents a big year for both these age categories with European Outdoor Championships events scheduled for later in the summer and close to 400 of Ireland's top young athletes took to the track in the AIT International Arena.
In the U23 800m Tir Chonaill's Karl Griffin was a comfortable winner in a time of 1.51.18. UCD student led for most of the race and he'll be happy in the knowledge that there's plenty more left in the tank.
John Kelly (Finn Valley AC) produced some monstrous throws in 2014 in the Shot Putt and he showed that the favourite's tag was fully justified when he won the the junior men's event yesterday. He five metres of spare on his closest rival, throwing the 6kg shot out to 17 metres 65 centimetres, a performance that impressed Irish Olympic manager Patsy McGonagle, who is also a member of the Stranorlar based club. 
"It's a great start to the year for John. He'll now go into the Scottish Championships in three weeks time with renewed confidence. He's looking for two marks ahead of the European Juniors and given that he's been lifting heavy weights in training over the past week or two it's very encouraging," McGonagle said.
Another Finn Valley athlete to win gold was Arlene Crossan. The young Letterkenny woman got out to 5 metres 64 centimetres in the long jump, a new personal best leap that was good enough for gold. Later in the afternoon Crossan added a silver in the 400 metres.
Silver was also the colour of the medal for Valley's newest recruit, Liam MacDevitt. The Reading athlete, a student in St Mary's College, boasts Kilcar lineage and formerly played for Yeovil Town. He came second in the U23 400 metres.
Tir Chonaill's second medal of the afternoon can courtesy of Conal Mahon in the U23 triple jump with 17 metres 44 centimetres.
Donegal's other medallist yesterday was Finn Valley's Bláthnaid Patton, also in the triple jump. The Pharmacy student got out to 10 metres 88 centimetres to get onto the medal rostrum.
Another top quality performance in Athlone yesterday came from Letterkenny athlete Danny Mooney. The middle distance athlete ran 3.43.78 in a special invitation 1,500 metre race – less than one second shy of the European Indoor qualifying time.
However, his coach Teresa McDaid – who has coached many of Ireland's best exponents over 800m and 1,500m – was delighted with Mooney's showing.
"It's a great run for a season opener. He's just .78 of a second short of the Prague (European Indoor) qualifying time and with races in Athlone and Ghent as well as the British and Irish Championships to come he's started well," McDaid said.
Meanwhile, Letterkenny athlete Ciaran Doherty finished tenth overall – first over 40 – in the prestigious Raheny Shamrocks 5 mile race yesterday. The Burtonport native came home in a time of 25 minutes 17 seconds. The winner of the race was Martin Fagan (Mullingar Harriers) in 23 mins 36 secs.
Fellow Letterkenny AC runner Ann Marie McGlynn finished second in the same race in a time of 27 mins 13 secs with Ciaran's wife Teresa, wearing the Finn Valley colours, sixth in 28 mins 05 secs.
Elsewhere, young Finn Valley athlete Sommer Lecky produced an outstanding leap of 5 metres 67 centimetres at an event in the University of Ulster on Saturday. The fifteen year old also cleared 1.65 in the high jump.
Posted: 9:20 pm January 25, 2015