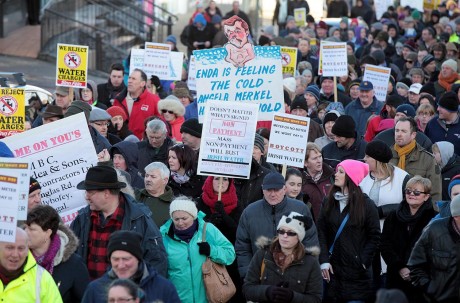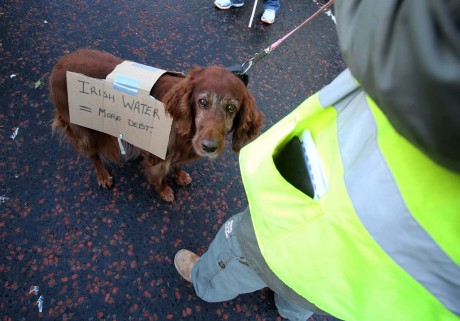 BY C.J.McGINLEY
ANTI- water charge campaigners have hailed Saturday's protest march in Letterkenny as a resounding success.
Estimates of the crowd ranged from between 3,000 to 4,000, with a defiant message from the protestors they will boycott the charges in the coming weeks and months.
All eyes will now switch to Monday, the last date for registration to pay the controversial charges.
However, it is estimated up top 700,000 people have refused to sign up for the charges across the country, including thousands across Donegal who fear charges will soar if water services are privatised.
Saturday's march, organised by Right2Water, an umbrella group for anti-water charge protesters heard angry chants for the government 'to go' and the abolition of Irish Water.
The Right2 Water group is cross community and cross political although it does receive the full support of Sinn Féin, Can't Pay Won't Pay, the trade unions and political representatives.
Banners in the crowd ranged from 'Enda the Line for Kenny' 'Shame on You' 'Meter or Meter, We Won't Pay' while Mary Shiels from Malin had her dog- 'Sally'- a spaniel decked out with a poster 'Irish Water, More Debt- and Can't Pay, Won't Pay'.
It prompted one protestor to quip;
"Sure even the dogs on the street know the charges are wrong,"
Right2Water managed to get between upwards on 6,000 people on the streets when they held a similar protest in Letterkenny in November and while the numbers were down it was a bitterly cold afternoon.
Some had predicted the crowd would only be up to 1,000 but the demonstration clearly showed the support against water charges shows no sign of abetting. Right2Water Donegal
PRO Gary Doherty said afterwards they were satisfied with the large turnout at Saturday's demonstration against water charges which saw upwards of '5,000' people take to the streets of Letterkenny.
"There had been fears that bad weather would hamper the protest but thousands defied the conditions to assert their right to water," he said.
Posted: 4:43 pm January 31, 2015