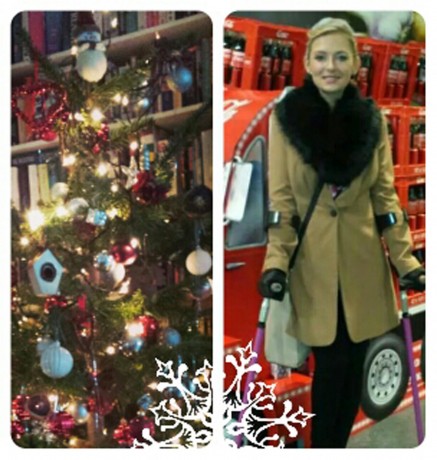 CHRISTMAS is almost upon us and I for one cannot wait until the festivities begin! I have expressed my love for Christmas in previous columns, this has always been the way since I was a child. I have many memories of waking up on Christmas morning and running down the stairs to see what Santa had brought me.
We moved home a couple of times throughout my childhood so I am blessed to have good memories in many different places. One particularly good memory was when I lived in Dublin. There is an old VHS somewhere in my attic that captured the moment I laid eyes on my brand new bicycle for the first time. I remember the feeling of pure excitement I felt as I went to bed the night before. There is something magical about being young at Christmas.
The wrapping paper lying on the floor after we pounced on our presents, the smell of Christmas dinner, the twinkling of the lights on the Christmas tree.
It is a pleasure for the senses. As I have grown a little older however, I have learned to appreciate the true value of Christmas.
As clichéd as it may sound I believe that family and friends are what Christmas is really about. You appreciate this more when loved ones move away.
My cousin Chris is currently living in Australia with his girlfriend Lizzie and my uncle Kenny is living in England. The excitement we all feel about their return to Ireland would rival that of my feelings towards that bike! 
A couple of weeks ago I met a man called Kevin Kelly who attended our last JCI meeting before we broke up for the holidays. He is the founder of a new project called The Jacket Off Your Back and it was during his talk that I began to understand how privileged most of us are.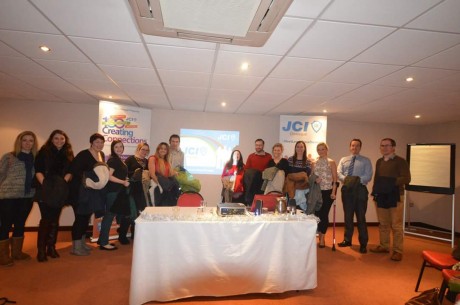 When many people are spending the days leading up to Christmas rushing around looking for last minute gift ideas, Kevin has been travelling around Ireland collecting new and used coats to give to the homeless.
Kevin set up The Jacket Off Your Back in October after an experience at work triggered an idea. Kevin is a flood and fire restoration specialist and while working on a house he discovered three coats that had not been destroyed.
He had them cleaned and the project took off from there. The concept is simple; people who no longer want or need their coats and other warm clothing can deliver them to one of 60 drop off points across the country.
Once sorted they are distributed out to homeless shelters and/or individual homeless people on the streets. Shelters will e-mail if they need supplies and the campaign team aim to have them delivered within one or two days.
The project has exploded across social media with their Facebook page reaching 5,178 in six weeks.  Kevin started The Jacket Off Your Back during a time when his own business was at its busiest but he believes in seeing it through.  
"I believe that if you start something you finish it. We are taking all kinds of jackets including children's. If they can't be used here we will send them to a refuge camp in Turkey, even if I have to drive them there myself." (Kevin Kelly)
Myself and a few others are supporting Kevin's campaign through JCI. If you would like to get involved or to find out where the Donegal drop off points are please e-mail jacketoffyourback@gmail.com or call Kevin: 0868988137. I would like to wish Kevin and his team the best of luck and congratulate them on their success to date.
EXPERIENCES
I think my appreciation of non-materialistic things stems from the various experiences I have had at this time of year. The first, and biggest, was my initial cancer diagnosis which took place three weeks before Christmas.
The second was when I fell in December 2011 and broke my femur which resulted in me spending a week in two hospitals, this included Christmas Day.
It's funny how you assume a situation will be awful but when faced with it, you quickly realise it is manageable. You adapt to whatever situation you find yourself in because, let's face it, what choice do you have? It is that 'sink or swim' idiom.
I could have made myself miserable during those occasions by feeling sorry for myself but with a great deal of support from my family, my Dad especially who travelled down to visit me in Dublin on Christmas Day, I got through it. I even had a few laughs along the way. The biggest laugh was my hospital dinner on Christmas Day. Holy Moly that food is bad! 
24 HOURS ON THE STREETS
Before I sign off I want to share one more good will story with you that you may have seen in the news over the past week. 
Recently a Preston student, Dominique Harrison- Bentzen vowed to spend 24 hours on the streets to raise funds for a homeless man who came to her aid.
The homeless man, known only as Robbie, offered Dominique his last £3 so she could pay her taxi after she lost her ATM card on a night out on the 4th December.
Although she refused, this act of kindness stuck in Dominique's mind and she felt the need to repay him somehow. She decided to start a campaign to see if she could raise some money for Robbie. Her initial aim was to gather £500 but at the last count she had made over £20,000. Not unlike Kevin's campaign, this story has been picked up by social media and has gone viral. Dominique has said that her priority is to give some of the money to Robbie and she hopes to use the rest to help others in the Preston area. 
Merry Christmas everyone! Enjoy the festivities, Love Nikki xxx
Nikki Bradley is the founder of Fighting Fit For Ewing's, a campaign to promote awareness of Ewing's Sarcoma. Nikki is sponsored by All Sports in Donegal Town. Support her campaign by giving 'Fighting Fit For Ewing's' a LIKE on Facebook or follow her on Twitter @nikkibradley59
Posted: 3:48 pm December 19, 2014