BY CHRIS MCNULTY
RORY Gallagher's tenure as Donegal manager will begin at Celtic Park for a Dr McKenna Cup clash against Derry on Sunday, January 4th.
Donegal have been drawn alongside Derry, Queen's University and Gallagher's native Fermanagh in Group B of the competition.
Donegal will host Queen's in Ballybofey a week later on January 11th before Fermanagh visit Sean MacCumhaill Park on Wednesday, January 14.
Donegal and Derry are scheduled for two meetings in January. As well as opening the McKenna Cup, the pair also cross swords on the opening night of the 2015 National Football League. On Saturday, January 31, Donegal host Derry, still managed by former Donegal manager Brian McIver, in Ballybofey.
Gallagher was appointed as successor to Jim McGuinness on October 31st and has been holding trials in recent weeks as he prepares to lead Tír Chonaill into a new era.
Bank of Ireland Dr. McKenna Cup 2015 Fixtures
All Sunday games at 2pm All midweek games at 7.30pm.
(Extra time to be played in semi-finals and final)
Group A: Ulster University, Down, Cavan & Monaghan
Group B: QUB, Fermanagh, Donegal & Derry
Group C: St Marys, Armagh, Antrim & Tyrone
Sunday 4th January, Round 1
Group A
Monaghan v Ulster University at Clones
Down v Cavan at Pairc Esler
Group B
Fermanagh v QUB at Brewster Park
Derry v Donegal at Celtic Park
Group C
Armagh v Tyrone at Athletic Grounds
Antrim v St Marys at Creggan
Saturday 10th January, Round 2
Group A
Cavan v Ulster University at Kingspan Breffni Park (7.30pm)
Sunday 11th January, Round 2:
Group A
Monaghan v Down at Clones
Group B
Donegal v QUB at Pairc MacCumhaill
Fermanagh v Derry at Brewster Park
Group C
Antrim v Armagh at Creggan
Tyrone v St Marys at Healy Park
Wednesday 14th January, Round 3:
Group A
Down v Ulster University at Pairc Esler
Cavan v Monaghan at Kingspan Breffni Park
Group B
Derry v QUB at Celtic Park
Donegal v Fermanagh at Pairc MacCumhaill
Group C
Tyrone v Antrim at Healy Park
Armagh v St Marys at Athletic Grounds
Sunday 18th January, Semi Finals:
(1) Group A Winner v Group B Winner
(2) Group C Winner v Best Runner Up
Saturday 24th January: Final
Posted: 12:08 pm December 9, 2014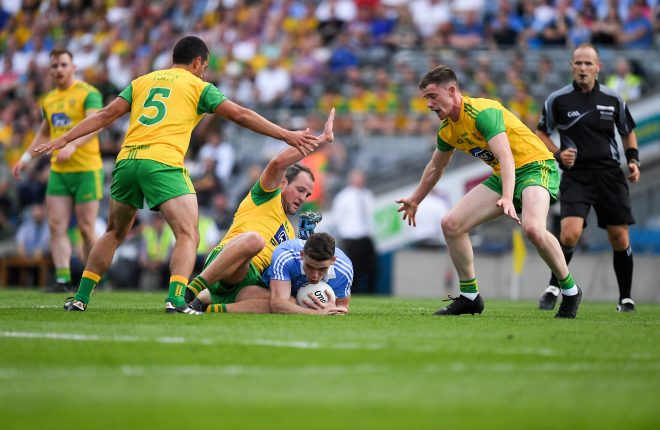 There were high hopes ahead of the first weekend of the Super 8s, but unfortunately the football didn't live...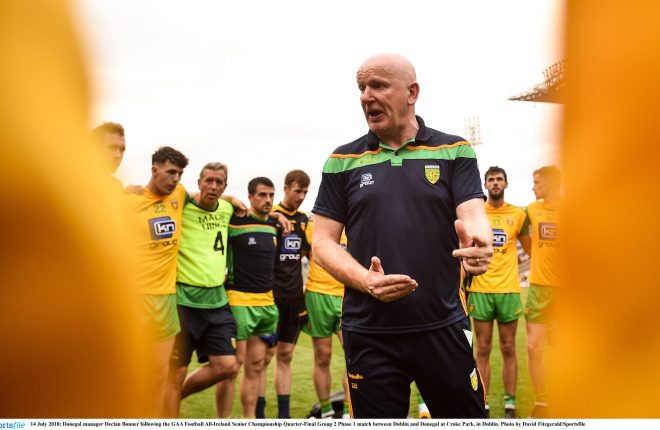 Donegal face Roscommon in Dr Hyde Park on Saturday at 5pm.