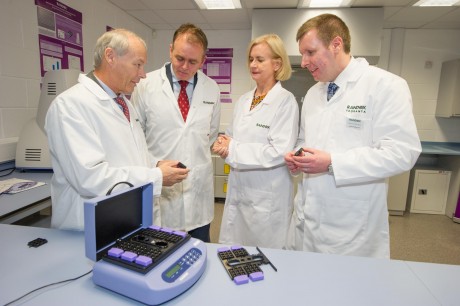 BY C.J.MCGINLEY
GLOBAL biotechnology firm Randox is now recruiting for expansion at its Dungloe facility.
In October the company laid out its vision for Randox Teoranta, its cutting-edge life science and engineering centre, which included a major investment of €25m in the site and a jobs boost of almost 500 posts to be filled by 2020.
The first wave of recruitment for 'Dungloe2020' has just begun, with the initial focus on electrical, mechanical and software engineers.
Randox Teoranta is holding a 'drop-in' morning on Christmas Eve from 9am to 12 noon for anyone interested in the career opportunities available.
Representatives from the company will be available to discuss the 'Dungloe2020' expansion and recruitment.
Dr Peter FitzGerald, Randox MD explained: "We are very pleased that the recruitment process is now open for the first of the Dungloe2020 positions.
"At the moment, we are keen to hear from those in life sciences, medical device engineering and software; with a particular focus on software developers and testers, embedded software engineers, those with backgrounds in mechanical design as well as electronic and electrical engineers," he said.
Posted: 10:39 am December 18, 2014