BY CHRIS MCNULTY
OUTGOING Competitions Controls Committee (CCC) secretary Seán McGinley has said that 'hard decisions' need to be taken in relation to the hot potato of the club fixtures calendar.
The Kilcar man, who lost his position to Declan Martin of Naomh Muire at yesterday's County Convention in Donegal town, gave an impassioned report in which he detailed a club season that ran for a total of 41 weeks.
"When you take into account the pre-season, that makes it a full year," he said.
"That is just too long. Hard decisions need to be taken.
There are too many weekends in the middle part of the year lost without football.
"We have roughly a game every other week, but we can condense that.
"At the minute we can only run the programe until July. If we have a successful county team then we run into bother with star games running out and the county players being left free."
McGinley noted that games that were called off on Good Friday were only played in recent weeks
He said: "The success of the county team impacts greatly on the club fixtures programme/ CCC has a very tight schedule to get its programme played with 18 rounds of League and 3 Championship games as a minimum.
"During the year a number of clubs expressed disappointment at the lack of games during July/August. This will happen when our county teams progress outside Ulster in the Championship."
McGinley has been a strong critic of the decision to defer the club championships until after the county team's involvement in the All-Ireland had ceased.
In his report, he said: "With the postponement of the Club Championship until after our exit from the All-Ireland we are denying our county championship winners a fair chance of competing and progressing to winning an Ulster Championship.
"In their Ulster semi-final against Omagh, St Eunan's were playing for their eighth successive weekend.
"We also had a situation in the last couple of weeks where our best young players are playing minor and under-21 Championship in conditions that just aren't suitable."
St Eunan's delegate Paul Carr and Gaoth Dobhair's Alan Boyd were particularly critical of the playing of the minor and under-21 Championships into December. The Gaoth Dobhair man was particularly critical of the decision of the St Paul's club in Belfast not to accommodate the late running of the Donegal MFC. Down champions Burren were given a walkover and a path into the semi-finals.
Gaoth Dobhair won the minor title on Saturday, but with St Paul's turning down a proposal for a week's grace, they won't be afforded the chance to go to Ulster.
"These young lads want to play at the highest possible level and it's terrible that they won't be able to do that now," Boyd said.
Donegal's protracted All-County League prorgamme came in for criticism from Terence McGinley of Naomh Ultan and Naomh Colmcille's James Dowds.
"Is there any word of Division 4?" McGinley wondered. "Something has to be done. We had no problem with county players. Division 4 shouldn't be taking 33 weeks to run."
Dowds took exception to the fact that his club went eight weeks without a game.
"We should be finished League football by mid-August," he said.
"We sit here every year hoping that it gets better, but it just gets worse."
Burt delegate Damian Dowds suggested, as he has done in the past, that midweek games would be a solution to the issues.
Responding, County Chairman Seán Dunnion said: "What we have isn't working. We need to iron out these issues for pre-season not week-to-week. Clubs have a key role to play. Clubs aren't happy to play sometimes unless it suits them."
Posted: 9:00 am December 17, 2014
County Board now searching for a replacement.
Last year it cost approximately €1.5 million to run Donegal GAA, an increase of some fifty per-cent on the...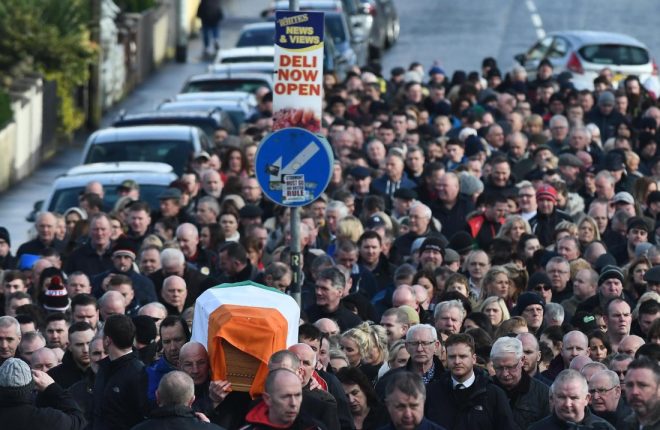 Images from around the County and beyond this week. From the burial of Martin McGuinness to Fanad Lighthous 200...