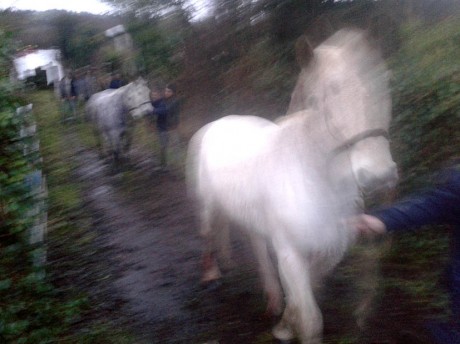 BY C.J.MCGINLEY
TWO horses escaped death after a major rescue operation in the Doneyloop area this afternoon (Monday).
The horses were trapped in huge flood waters after the River Finn burst its banks.
The horses were caught in a cascade and submerged in up to 6ft of water. Rescue personnel from the Strabane Fire Service rushed to the scene.
The distressed horses had to be carefully shepherded further down river before they were eventually brought to a shallow area and met by their relieved owners from Castlefin.
Speaking to the Donegal News, ISPCA Regional Inspector, Kevin McGinley, said the horses would have perished were it not for the prompt response of the emergency services.
"The torrent of water was one of the worst I've ever seen," he said.
"The fire service personnel did a really professional job to rescue the horses," he added.
Posted: 5:13 pm December 22, 2014