BY CHRIS MCNULTY
SINCE the foundation of the All-Ireland club championship in 1970, no Donegal club has reached the St Patrick's Day decider.
In the Intermediate and Junior competitions which commenced in more recent times, only St Michael's have reached an All-Ireland final, losing the inaugural All-Ireland Intermediate Club Championship final against Illen Rovers of Cork, 1-11 to 1-4 at Portmarnock in April 2004.
On Sunday-week, the Termon Ladies will hope to rewrite history and become the first club team from Donegal to bring home an All-Ireland title. After Sunday's win over Kilkerrin-Clonberne in the All-Ireland semi-final, they'll meet Mourneabbey of Cork in the final.
That St Michael's team of ten years ago contained Christy Toye, who has plenty of family ties to the Termon team in the McCafferty cousins Roisin, Olive, Petra, Therese and Graínne.
Roisin McCafferty followed Christy's lead in captaining Donegal. She captained the Donegal senior ladies team in 2013 having been a member of the Donegal squad that won the 2010 All-Ireland Intermediate title when they defeated Waterford at Croke Park.
Olive McCafferty, Therese McCafferty, Geraldine McLaughlin and Roisin Friel were the other Termon players to savour that win.
Roisin McCafferty was the goalkeeper on that team and now, operating at midfield, is in pursuit of All-Ireland glory with Termon. This one would mean a little extra.
"It's not that 2010 means 'less', but this group of players is just special," she says.
"We do everything together, we live in each other's pockets and we've come up through together in football.
"The likes of myself, Dara (Kelly), Geraldine (McLaughlin) and the two 'Yankies' (Roisin and Niamh Friel) have played together since the under-12s. We're a tight group of friends.
"We're so close off the field and that definitely translates onto the field. When we get home at weekends, we spend so much time together. It's true, you'd die for those girls."
Termon have taken the Championship by storm this year. After retaining their Donegal Championship, they blazed their way through Ulster in beating Newtownbutler, Castlewellan and then their old foes from Donaghmoyne in the final. Termon and Donaghmoyne have been familiar opponents with Termon winning on their maiden voyage into Ulster in 2011 and the Monaghan side having the measure of Termon in the provincial finals of 2012 and 2013.
Geraldine McLaughlin scored 4-4 as Termon won the prize this year, Francie Friel's girls winning 4-7 to 3-8 in a pulsating tie that almost slipped out of their grasp.
"We just weren't going to lose that day no matter what," McCafferty insists.
"Last year drove us on. We were so close to beating them, they came back to get a draw and they just beat us out the gate in the replay. This one was special because of what we'd gone through in the last couple of years. We could never look past any team along the way, but we knew, deep down, that there was an Ulster title in us. The losses of the last couple of years probably gives it a bit more value. You realise how much it takes and you know how hard you've worked for it.
"This year, we've done everything – and I mean everything. In the Ulster final, I remember watching Olive blocking down shots late in the game as if her life depended on it. You see team-mates doing that and you just have to do the same yourself.
"This has been coming since 2010, not just in the last two years. We've known that we were capable of doing it and we were never far away."
After they lost a replayed Ulster final to Donaghmoyne by 19 points, Termon were stung hard last year, but they vowed this year that they'd leave every sinew of themselves behind them in search of the silverware.
McCafferty has paid tribute to their management. She says: "Francie and the two boys, Trevor (Alcorn) and 'Smiley' (Paul McDaid) are so committed. They've given absolutely everything to what we need to win. We couldn't thank those boys enough. Their work is unreal. They have left no barriers for us at all. They're three great men and three very different voices – they all bring something different."
Scorer-in-chief McLaughlin is one of her best friends. "Unreal, she's just magic," McCafferty says about a player whose scoring knows no limit these days.
McCafferty has also hailed the influence of the experienced Maureen O'Donnell, whose seven-point haul in Sunday's semi-final proved so vital.
She says: "What can you say about Mo? She's one of our best trainers and she really helps calm the thing down with points like she kicked on Sunday. She's so experienced and calm in games."
McCafferty is based these days in Coventry and was the first ever recipient of a GAA Scholarship at Coventry University where she is studying physiotherapy.
She's involved with the ladies team in Coventry and they happen to have qualified for a League final – which also happens to be Sunday-week!
She says: "There's no debate where I'll be! The college have been great for me in fairness to them. I'm doing my own training and I've got access to the physios and they supply me with a diet plan. Everything is just so professional."
In 2010, she savoured All-Ireland glory with her county and then Ulster success with Termon. Now, she stands an hour from achieving the ultimate club football prize.
"It came very soon for us and it was all new to us in 2010," she says.
"Now, we're comfortable with it, but we've got more comfortable with each other too. The bond has got stronger in the last four years."
Just one more hurdle awaits them.
Posted: 2:30 pm November 21, 2014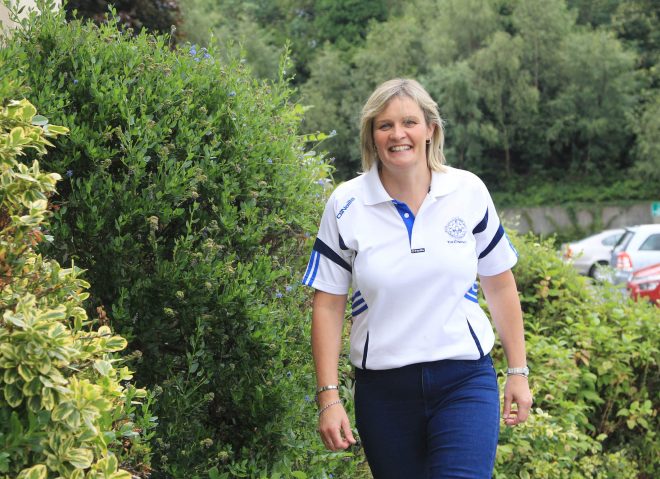 Mary Gordon was a natural-born leader and the obvious choice to captain the Donegal team to take the field...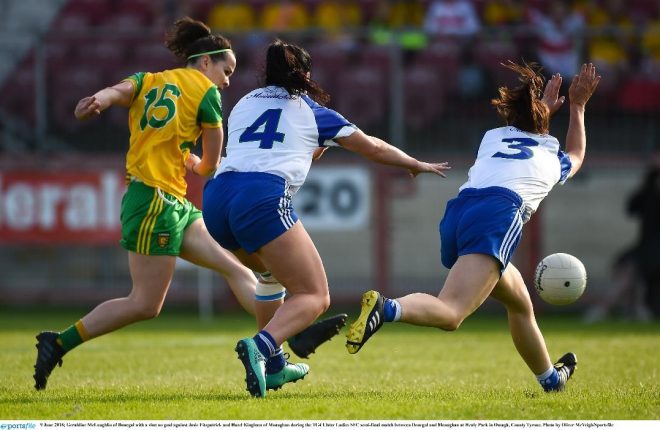 Geraldine McLaughlin is back to her devastating best and is gunning for Ulster SFC glory once more.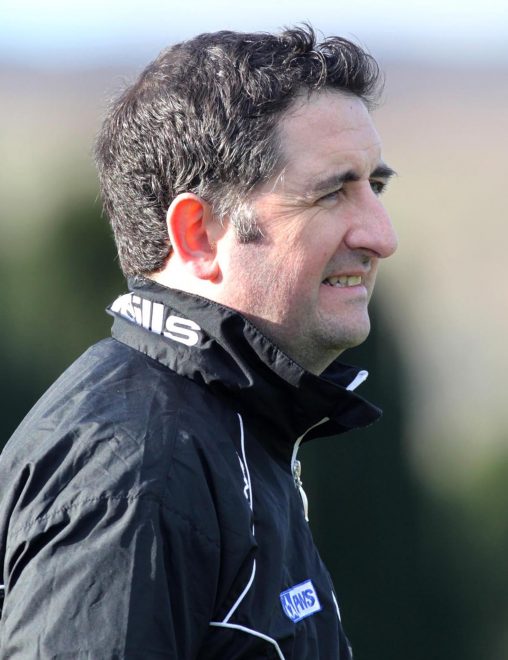 Donegal have been drawn to play Monaghan in the Ulster Championship semi-final, a game which has been pencilled in...