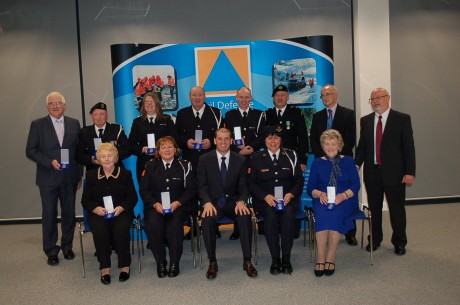 TEN Donegal Civil Defence volunteers were honoured on Friday last (21st November), when Paul Kehoe TD, Minister of State Defence presented them with long service medals at an awards ceremony in Dublin Castle. The medals were presented in recognition of 30, 40 and 50 years service in Civil Defence.
The Donegal volunteers were among almost 300 Civil Defence Volunteers from across Ireland to be honoured with long service medals.
Donegal recipients included Mr. Joe Breslin, Mountcharles, (30yrs), Mr. James Dolan, Stranorlar, (40yrs), Ms. Anne Marie Monagle, Glengad, (30yrs), Mr. Hugo Boyle, Carrigart, (30yrs), Mr. Denis Gallagher, Burt, (30Yrs) ,Mr. John Quinn, Ballybofey, (30yrs), Ms. Rose Mc Namee, Letterkenny, (40yrs), Ms. Jackie Mc Crudden, Burt, (30yrs) Ms. Ita Wilkie, Letterkenny, (30yrs) and Ms Edel Flynn, Ballybofey, Civil Defence Officer (30yrs).
These medals have been awarded to honour decades of voluntary service given by these individuals to their communities. Both serving and retired members of Civil Defence with the appropriate service are eligible for these medals.
At the ceremony, Minister of State Paul Kehoe TD stated; "On behalf of the Government I am delighted to be able to honour so many people who have given 30, 40 and even 50 years of service to Civil Defence and to their local community. The modern, professionally trained and equipped organisation that Civil Defence is today would not have been recognisable when our medal recipients first joined up.
"Civil Defence has never been afraid to change and has continued to thrive with the major transformations that have taken place down through the years. That success is very much to the credit of everybody assembled here today and long may it continue. For its part this Government will continue to ensure that Civil Defence has all of the necessary supports to ensure that it does."
Posted: 11:13 am November 26, 2014