BY RYAN FERRY
In 2003, Tyrone famously converted the late Cormac McAnallen from a midfielder into a full-back as they went on to clinch their first All-Ireland title.
Midfielders regularly swap between the middle sector and the forward division, but it is unusual for them to drift into defence.
However, St Eunan's player Sean Hensey has made the transition this season and he was in excellent form last Sunday against Glenswilly, as he helped the Letterkenny club to their 14th Donegal Senior Championship.
Hensey was always considered to be a midfielder, but a discussion with his manager Maxi Curran towards the end of the summer transformed his season.
"It was all Maxi's idea. He just came up to me at end of June/August and said he was thinking of possibly playing me at full-back," Hensey explained.
"We tried it out and it worked ok. I've been getting plenty of advice from the likes of Rory Kavanagh and Pat McNabb, and Adrian McClafferty has been giving me tips too. I'm learning more and more about the role with every game I play," he added.
Hensey has grabbed his chance and he has made the full-back berth his own in the latter stages of the championship.
The 25 year-old had been on the periphery of the Eunan's team for the last couple of seasons, mainly due to St Eunan's strength at midfield. However, Curran noticed that he has all the attributes to mind the square.
"There's a fair bit of competition in midfield. You have Kavanagh and Kevin Rafferty and then you have John Haran coming out around the middle as well, and look what he did last week," said Hensey, who works in Penney's in Letterkenny.
"I suppose I was a little surprised at the start to be asked to play full-back, but the more it was explained to me, the more I started to see where he was coming from.
"I'd be one of the quicker players in the team, and I'd be strong and good under the high ball, and you need all of those things to play full-back."
It's been a baptism of fire for Hensey as he has had to encounter some of the best forwards in the county in recent weeks, but so far, he has passed the test.
Against Four Masters in the quarter-final, he did a super job on Michael Doherty, while he was tasked with keeping an eye on All-Star Colm McFadden in St Eunan's semi-final victory over St Michael's.
It didn't get any easier in the final, when Donegal captain Michael Murphy lined up beside him at the start of the match. But Hensey performed well and Murphy was soon forced to move out the field and forage for possession.
Hensey was one of the best players on the field in the final making a number of crucial interceptions and driving out of defence at every opportunity.
"It's tough going at times, but Maxi had me well prepared for them. I also have plenty of help back there, it's not just me against them. The boys all get back quickly and we tackle in groups.
"We did Crossfit at the start of the year and it brought a lot of us on, especially the younger players. You can see the difference in them. You need to be able to tackle hard and then break out at pace – it's very demanding."
Hensey is privileged to be part of the St Eunan's team this term after he missed out on championship glory two years ago through injury.
"I was part of the panel in 2012, but I got injured before the championship and I didn't get to play. Thankfully this year I have been injury-free and I've been with the panel all season. It's great to be part of a winning team."
Now that they have conquered Donegal, St Eunan's will enter the Ulster Club championship and Hensey says the team is determined to make an impression in the province.
"We celebrated on Sunday night, but that was it. We were back in on Monday for a recovery session. We really want to give Ulster a good rattle this time.
"We have underperformed in Ulster in the past and we have to try and do better this time."
First on the agenda is Roslea Shamrocks from Fermanagh on Sunday. They are the current kingpins of football in the Erne county, winning four of the last five championships.
The controversial Quigley brothers, Seamie and Sean are their star players and Hensey and his teammates will have to keep them quiet if they are to progress to the semi-finals.
"All I have heard about this week is these Quigleys! I'm sure we'll look at them before the weekend and discuss what we will do to try and stop them.
"It will be another tough game, but hopefully we will be able to get the better of them."
Posted: 11:30 am November 9, 2014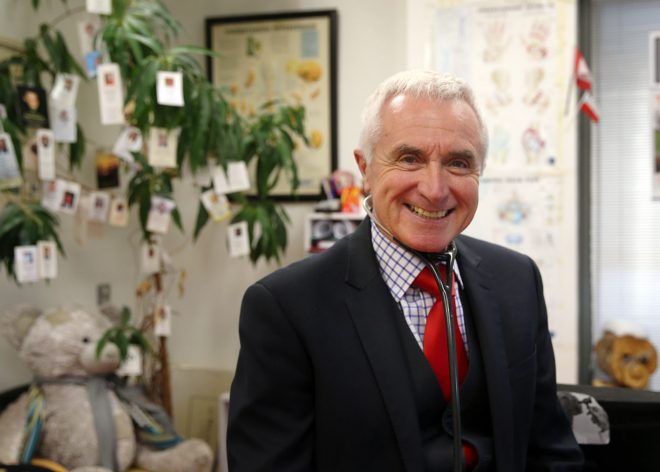 Letterkenny based GP Dr James McDaid said that an 'awful' lot of people across Donegal were using benzodiazepines.