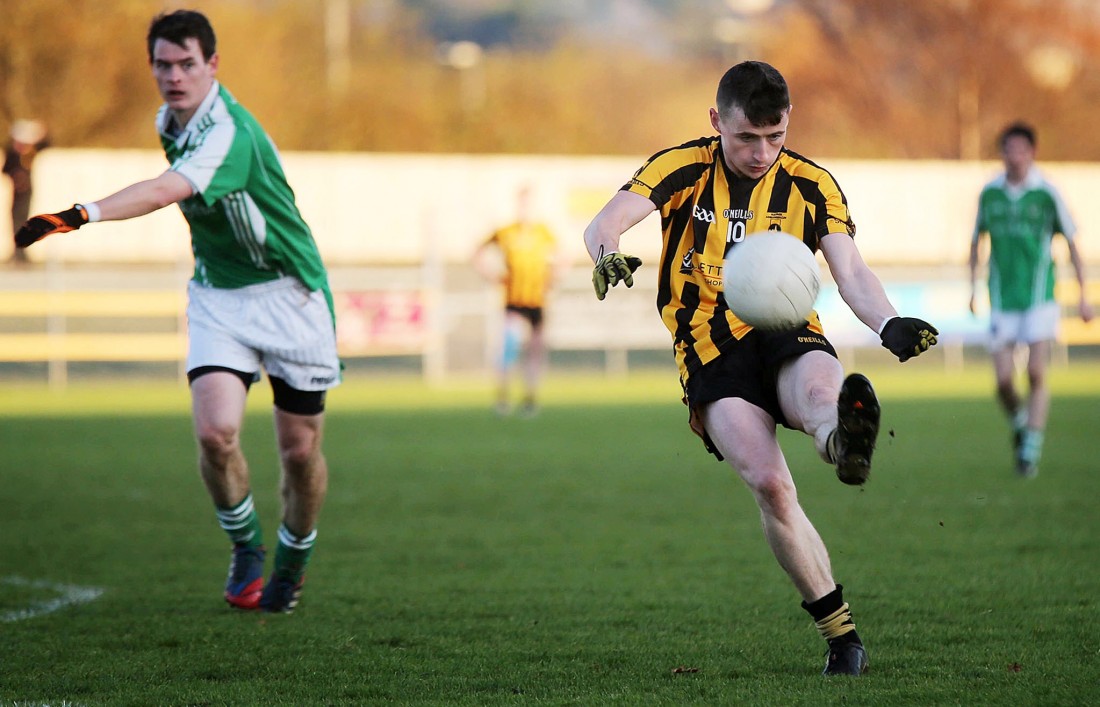 BY CHRIS MCNULTY AT O'DONNELL PARK
ST EUNAN'S manager Maxi Curran says the Donegal champions are looking
to make ammends for previous hurts in the Ulster Club Championship.
Conall Dunne hit 1-4 as the Letterkenny team comfortably defeated a disappointing Roslea Shamrocks at O'Donnell Park yesterday to reach the semi-finals.
For a club with 14 Donegal SFC titles to its name, yesterday's was only St Eunan's third ever win at Ulster level and their first-ever home win in the competition.
As they look forward to a third semi-final in this competition – they were beaten 2-8 to 1-6 by Cavan side Crosserlough at Coalisland in 1969 and they lost 0-11 to 0-8 against Crossmaglen at Brewster Park in 2008 – on Sunday against Omagh St Enda's, Curran believes that his squad has a few wrongs to right.
"There is definitely an itch in these boys regarding the Ulster club and they do feel that they have let themselves down and that they haven't achieved what they could have achieved over the years," Curran said.
"They should have been growing year-on-year in Ulster so there is a hunger and desire there that is probably accounting for some of the fatigue that is there. There is a real desire to achieve and to do themselves justice.
"It's unbelievable when you consider all the success the club has had at county level that John Haran has won eight Donegal finals and today is only the second time he's won an Ulster match. That's a scary stat when you think of the players St Eunan's have had. They've been unfortunate through the years to draw a lot of the big guns. Only that Omagh got in the way they'd be playing Crossmaglen again.
"We're delighted to get over the line. We didn't hit the heights that we have in previous weeks. We're probably featuring more on peoples' radars now and teams are dealing with us, whereas before it was us dealing with the other teams. We were fairly in control in the first half and we were playing the game on our terms.
"We probably didn't get the scores that we should have. We were struggling to get through because they were fairly defensive. We got enough to get us into a comfortable position at half-time and we defended well.
"We were always going to make it hard for them to break us down and that gave us a sound basis. We're delighted to be through and it's an exciting time for us now."
Conall Dunne pointed the way to the semis for the Letterkenny side.
The former Donegal player scored 1-4 in the first half, including a 30th minute penalty, to set St Eunan's on their way to a memorable win.
"The guy is phenomenal," Curran said of Dunne's match-winning display.
"He has been to the forefront of all our victories this year. He has been our top scorer. His industry and his willingness to work is first class. He is a massive plus to this team and the kind of fella we couldn't be without."
Over recent weeks, Curran has hailed his team's old, wise heads. Last weekend, it was John Haran who stepped up to the plate with an inspirational display in the county final win over Glenswilly.
In that game, Kevin Rafferty had to leave the action after just ten minutes because of an eye injury. Rafferty was able to take up his centrefield sentry yesterday and he scored the first and last points for his team.
Curran said: "He put his mark on the game. When you have a team of young players like we have, you need x amount of experienced heads. Not alone are they experienced heads, they are also very intelligent footballers, the likes of Conall, Kevin and Rory (Kavanagh).
"The way they manage the game and control the game, the way they coach and direct the young lads through, is excellent. That makes my job a lot easier."
Eunan's were impressive in the first half yesterday, but took their feet off the gas after the break. Roslea crept back closer, but St Eunan's remained convincing victors and there was never a time when it looked in doubt.
Curran said: "Maybe in the back of their minds they felt that they were comfortable and it was a case of holding what we had. That wasn't what we asked them to do – we asked them to go and attack the second half with the same vigour they did in the first.
"This was game seven on the bounce and it was very tough physically as well as mentally. It's hard to come down from winning a county title and get ready for another challenge straight away. Now, they have to do that again this week. That will take a toll at some stage.
"You can't but be impressed by the way that they have conducted themselves and carried themselves. They're enjoyable to watch, they're brave and they're not afraid to have a go. They're not sitting back waiting on the other team to come onto them."
In 2012, Kavanagh – now the St Eunan's captain – and Rafferty won the All-Ireland with Donegal, while Curran can draw on plenty of inter-county experience throughout what is a new-look team.
He said: "As well as the likes of Rory Kavanagh and Kevin Rafferty, the young lads like Caolan Ward, Conor Parke, Darragh Mulgrew and Conor Gibbons have played in Under-21 finals with Donegal.
"They've proved that they are capable of playing at the highest level and that stands to them coming in at this level. We spoke about that a lot this year – that there is no reason that we can't. It is there for them if they want it – they can get more out of it than they have done before."
Posted: 1:30 pm November 10, 2014