BY CHRIS MCNULTY
WHEN St Eunan's won the 1969 Donegal SFC title they had unique preparation for their Ulster Club Championship campaign.
St Eunan's embarked on a three-week tour of America's east coast in October '69, playing exhibition games in Philadelphia, Boston and New York.
St Eunan's were the first team from Donegal to go on such a voyage. "St Eunan's left New York with the reputation of being the best club team to have come over from Ireland," reported the Donegal News of the time.
St Eunan's, fresh from their 0-10 to 1-4 win over St Joseph's in the Donegal final, left Dublin Airpot at 8am on Saturday October 4 and on arrival at Kennedy Airport were greeted by members of the New York GAA community, including Fintown native Paddy Ward, the secretary of Donegal GAA in New York.
Their first game saw them defeat Philadelphia 4-13 to 4-8 at La Salle Stadium, after which they were treated to a reception at which music was provided by Barney McDaid, 'of Barney and Hugo fame', who was a member of the travelling St Eunan's party.
Among their hosts in Philadelphia, they were hosted by the likes of ex-Donegal footballer from Glenties Danny Doogan, Carrigart's Sean McFadden, the Bonner brothers from Glenfin – Paddy, Cathal and Seamus – Liam McHugh from Letterkenny's Oldtown, Pat Gallagher from Ballyraine and Jimmy McGill from Ardara.
They had been welcomed officially to the function by Mr Frank Algeo, formerly of Glencar, before going on to Washington where they were given a tour of the  Capitol and the Smithsonian Institute before being guided around the White House. While in Washington, they met the Kilkenny hurling team who were also on their own venture to the States.
In Boston, St Eunan's were guests at a function attended by 330 guests. At the top table were Rev. Fr. Owen Friel, President of St Eunan's and Rev. Fr. Sean McEntee, who played midfield for St Eunan's. Glenswilly man Pat McDevitt played the host in Boston, as well as the  likes of Pat Callaghan and Mrs John McLaughlin of Carndonagh.
"Among those they met were former St Eunan's player Jim Gallagher and former Letterkenny table tennis star Gerard McAuley," mentioned the account of the trip in the Donegal News.
St Eunan's defeated a Boston select, captained by McDevitt, 5-13 to 5-3.
The Donegal News reported: "Reason for the high scores was that the crossbar, intended for American Football, was 18 inches higher than normal Gaelic football."
Sean Ferriter, St Eunan's star man, had to cut his visit short to commence his training prior to taking up his promotion as Sergeant in the Gardai.
Paddy Ward welcomed the St Eunan's club to New York again and while in the Big Apple, those who made the trip stayed in the home of Donegal people like: James Friel of Ard O'Donnell, Pat Friel and Bernie Friel of Glenswilly, Terry Benson from Lower Main Street, Phil Brennan from Clonmany, Eddie Houston and Sean McMenamin from Glenfin, Daniel O'Boyle of Annagry, Ballybofey's Patrick Gillespie and William Flanagan, a native of Rathmullan.
At a banquet in the Breffni Inn, Queen's, they met up with a visiting crowd from Gweedore.
St Eunan's lost 1-14 to 2-10 in New York with Paud McGowan – who scored 1-4 – and Seamus Durkan getting the goals.
"The team members speak of the almost unbelievable hospitable way in which they were received," said the next week's Donegal News.
ST EUNAN'S PREVIOUS TWO ULSTER CLUB SEMI-FINALS
1969
St Eunan's 1-06 Crosserlough 2-08
ST Eunan's returned from America to play Cavan side Crosserlough in the Ulster semi-final, but the Letterkenny side kicked this one away in the first half.
"With enough first-half chances to seal up the game, the Donegal team muffed chance after golden chance and ended the half-hour with a mere three points on the scoreboard," the Donegal News reported.
Sean McEntee and Anthony Gallagher wee well on top in that first half, but the sides were level at the break, three apiece.
P McCabe plundered an early goal in the second half for Crosserlough and, although Joe Winston hit back with a couple of points for Eunan's a goal from Gene Cusack dashed the hopes of the Donegal champions.
Eunan's were spurred by the excellent John Hannigan. The Donegal News said: "He was always a threat and gave a glimmer of hope when he released a typically deceptive long 20-yearder that the Cavan goalie could not hold and it slipped to the net."
Hannigan's goal proved a consolation score, however.
St Eunan's: Seamus Hpare; Paddy Gallagher, John Hannigan (1-0), Seamus Kelly; Pat Conaghan, Pat O'Donnell, Sean Bonner; Anthony Gallagher, Sean McEntee; Michael Crossan, Sean Ferriter (0-1), Joe Winston (0-3, 1f); Michael Sweeney, Seamus Durkan (0-1), Hugh McBride. Sub: James Larkin (0-1).
2008
St Eunan's 0-08 Crossmaglen 0-11
SIX years ago, St Eunan's looked to have Crossmaglen on the ropes when Eamon O'Boyle's team led 0-5 to 0-1 after just 15 minutes.
"The Crossmaglen defence struggled to cope with the slick young St Eunan's forwards," Cronan Scanlon reported in the Donegal News.
Cross' were back to within two points, as Eunan's led 0-6 to 0-4 at half-time. When Oisin McConville drilled over a free eleven minutes into the second half the Armagh champions were ahead for the first time.
St Eunan's might have swung the pendulum again when they created a goal chance, but Paul Hearty, the Crossmaglen 'keeper, superbly saved from Ross Wherity.
John McEntee landed an inspirational score from an impossible angle before McConville, Tony McEntee and John Hanratty pointed to seal the deal.
"I'm very disappointed with the result but in fairness to Crossmaglen, their experience told in the end," O'Boyle said afterwards.
"They dug in deep, held the ball up well and kept possession. I'm very proud of our boys."
St Eunan's: Damian Martin; Eddie Brennan, Kieran Ryan, Damien McClafferty; Mark McGowan, Eamonn Doherty, Adrian McClafferty; John Haran, Kevin Rafferty; Kieran Sharkey, Conall Dunne (0-3, 2f), Ross Wherity (0-3, 1f); David McGinley, Rory Kavanagh (0-1), Paddy McGowan (0-1). Subs: Dualtach Molloy for P.McGowan, Ciaran Greene for Doherty.
Posted: 5:00 pm November 14, 2014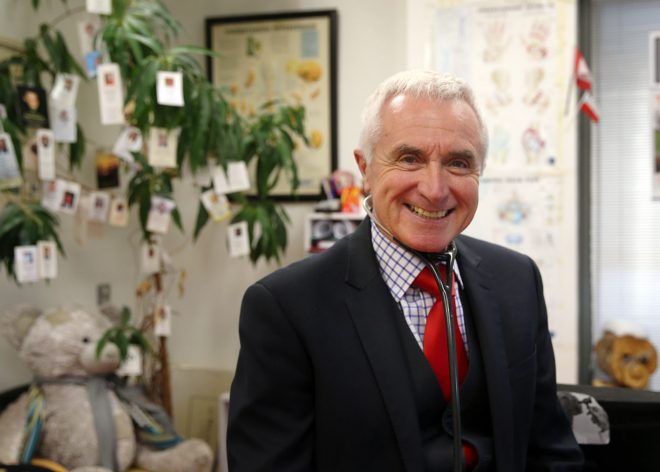 Letterkenny based GP Dr James McDaid said that an 'awful' lot of people across Donegal were using benzodiazepines.