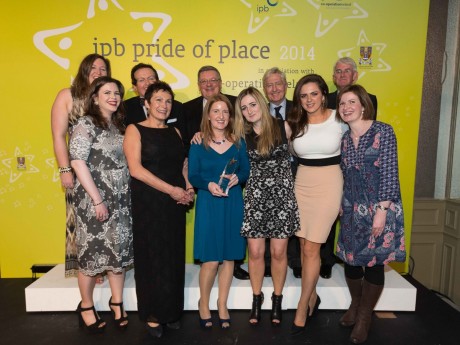 FANAD scooped top prize in the annual IPB Co-operation Ireland Pride of Place Awards announced last night (Saturday 15 November) in Treacy's West County Hotel, Ennis Co Clare. They won the top position in the Islands and Costal Communities Category. Gweedore (Gaoth Dhobhair) also scooped one of the prestigious runner up prizes in Category 4, which is for populations between 1500 and 4000 people.
In their citation, the judges said, "They found this place in northwest Donegal and its people an absolute pleasure to visit as they were brought on a community journey of over 50 years. Fanad is a community always looking to the future while building on the attractiveness of its environment and location.
Gaeltacht Beo Fhánada demonstrated an infectious enthusiasm and passion for their area. The judges were also impressed with the manner in which the younger people in the community readily accepted they had a responsibility to continue the work of previous generations and take on the leadership mantle. The future is in good hands".
It was also announced that Gweedore was nominated for a LivCom Award. These awards are the world's only Awards Competition focusing on International Best Practice regarding the management of the local environment and the winners will be announced in 2015.
More than 800 people attended the gala ceremony to hear the announcement of the winners and runners up in the 12th Annual IPB Pride of Place Awards in association with Co-operation Ireland. The awards were greeted with great celebration by representatives of community groups, from all over the island of Ireland, eagerly anticipating the announcement of winners.
The Awards recognise cities, towns and communities that show respect and inclusion for every sector in local areas and creating communities to which the people are proud to say they belong. Forty six groups, ranging from small rural communities to inner city housing estates, won accolades in the Main and Cities Competition– all of them demonstrating the pride they have in their cities, towns and villages.
Posted: 2:03 pm November 17, 2014