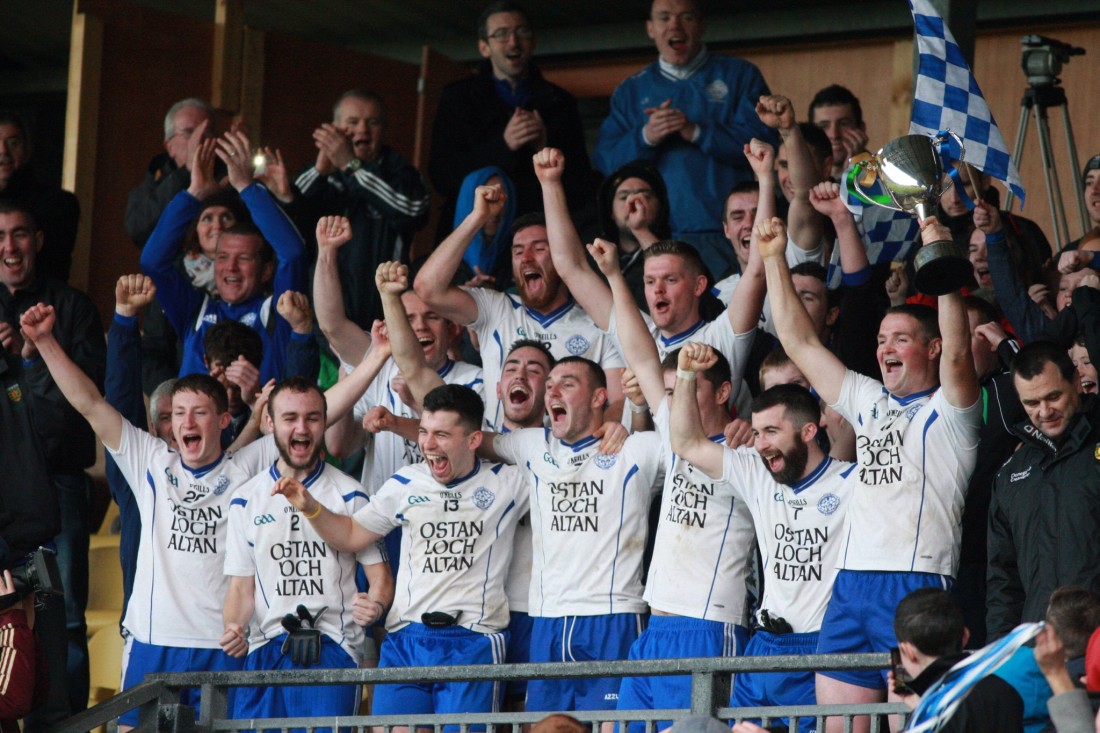 BY CHRIS MCNULTY AT O'DONNELL PARK
NOW that they're back in the senior championship again, Denis Boyle says Cloughaneely's first aim next year must be to preserve senior status.
Boyle was part of the Cloughaneely side that won the 2006 Intermediate Championship after they finally put Fanad Gaels to the sword, after two replays.
Their senior sojourn lasted just two seasons, dropping down after they were relegated into Division 3 of the All-County League in 2008. Their return was secured again in 2010, thanks to a strong finish in Division 2 that year, even though they lost to Bundoran in the Intermediate final.
Saturday's IFC final win over Buncrana, a 0-15 to 0-8 triumph in which Boyle kicked five points, sends them back among Donegal's big guns again, just a year after they were relegated by Glenfin in a play-off.
"The biggest thing for us is getting back into senior football again," Boyle, who played for Donegal in the Brian McIver era, said after Saturday's win over Buncrana in Letterkenny.
"We've been for far too long up and down, up and down, just yo-yoing.
"We've been so long in between the two. The main aim now is to stay in the senior championship. We have a good crop of young lads coming through and it's vital that they're playing in senior. There's a huge difference in senior and intermediate."
Kevin Mulhern played under Jim McGuinness in his opening two National League games as the Donegal manager in 2011 having been a part of the under-21 side that reached the previous year's All-Ireland final.
The 25-year-old echoed Boyle's sentiments.
"We were very disappointed last year to get relegated out of the senior," he said.
"We have a good mix of young lads and the older ones. We can hopefully hold our own now in senior again. Denis Boyle and Shaun Maguire are a huge help to the young fellas.
"The stepping stone we're looking to is Glenswilly – we really look up to what they did when they won the Intermediate. In the senior championship holding our own is what we want to do now.
"Last year hurt big time. I want to be playing the highest standard of football. There's a lot of young boys who need to be playing up in senior. I won an Intermediate in 2006 when I was 17 and it was a huge help then to be playing senior. The lads like John McGarvey and John Fitzgerald will really benefit from going up to senior."
When Glenswilly won their Intermediate title in 2005, it was against a Cloughaneely outfit that included Boyle.
The 33-year-old was in excellent form in Saturday's final. His five points were all superbly-taken and the experienced forward, like his team, corked their best wine in the Championship.
Cloughaneely won just two of their first six League games this year and that run included heavy losses against Naomh Muire and Dungloe.
A Bank Holiday Monday win over Sean MacCumhaills was the spur – and a recent win over the Twin Towns side staved off the threat of relegation.
Boyle said: "We eventually came good – and it was perfect timing for the Championship. Sometimes when you lose a game or two, you just get into a bad run. We were just losing by a point or two here and there.
"The thing just built up once we stepped up the training. We had the reserves training away too and we were all together right until the end. Things just fell into place when we needed them to.
"It's been a long, tough year. We didn't go that well in the League this year. We just about stayed up in Division 2, but we got a bit of traction when it came to the Championship.
"We were just building all the time. We had our best performance of the season in the semi-final against Fanad.
"Finals are always tense affairs. It was tight near the end. Even though we had a big enough lead there was always a danger Buncrana could sneak a goal. Our full-back line showed a lot of class to keep their boys quiet."
Talisman Shaun McGarvey was restricted to a late appearance off the bench having recently suffered a knee injury, but Cloughaneely posted 15 points in his absence.
Boyle said: "We have been putting in big scores. John Fitzgerald was sick early in the year, but he's come good again and was excellent for us. Shaun Maguire was excellent there too – he's always good for a few scores.
"It's just nice to get over the line again and win it."
It was a big weekend for the club. On Friday night, their under-16s were beaten by Naomh Columba in the Donegal Under-16 Division 2 final, while the reserves were edged out by Gaeil Fhánada in Saturday's curtain-raiser.
They landed the big one, though, and Boyle believes that the curve can keep rising out west.
He said: "Kevin Scanlon and Stephen Doohan are doing great work with lads at underage. You can see them coming through now, even in the reserves now there are lads who'll be able to step up into senior soon – and our under-16s were in a final last night.
"We have great people working away behind the scenes doing trojan work. It's great for us to give something back to those people and to our supporters who have been brilliant following us all over the county."
Mulhern and his defensive comrades had put in extra hours during the week in anticipation of a battle with the Buncrana attack. It was just the game that suited the tough half-back, who enjoyed a lovely moment with his young son, Michael, just after the Cup presentation.
Mulhern said: "We knew if we could stop the likes of Odhrán Doherty that we'd be in with a big chance, but they have the likes of big (John) Campbell and 'Jigger' (Darach O'Connor) too. They've an unreal forward line but we worked hard all week on stopping those boys."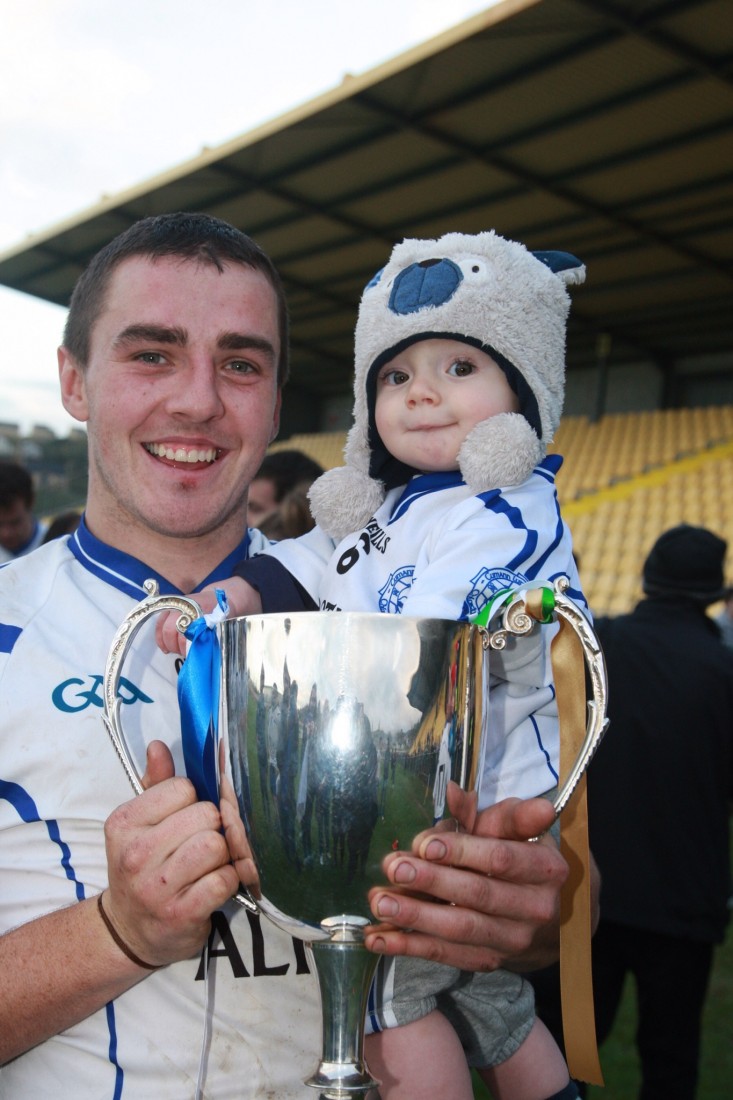 Posted: 1:30 pm November 11, 2014