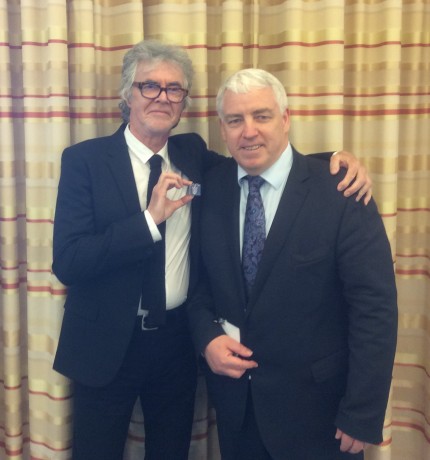 Danny Hutton (left) and Michael Heaney, Director of Community-Enterprise, Donegal County Council
TWO  Donegal men were among eight people honoured at this years Golden Bridges 2014 awards which were held in Boston recently.
Danny Hutton and Michael McCarron were winners of the Legend Award and the Tir Chonaill Award respectively.
This year was the sixth year of the Golden Bridges gathering in Boston where the very best of Donegal, Derry and Belfast is celebrated in the company of Irish American leaders who have made Boston and indeed the State of Massachusetts the go-to destination for anyone who wishes to forge strong and meaningful transatlantic links.  The Golden Bridges Honourees has become a key part of this annual event where the remarkable contributions of individuals of Irish decent is recognised and honoured by their peers.
Danny Hutton was born in Buncrana and as a young child in 1947 he emigrated with his family to Boston and in 1954 moved to Los Angeles where he still lives today.  Danny formed the rock band Three Dog Night with Cory Wells and Chuck Negron in 1968.  From 1969 to 1974 Three Dog Night had 21 consecutive Top 40 hits, 7 number 1's, 7 million selling singles and twelve straight gold LPs.  By late 1975 they had sold nearly 40 million records worldwide.  He was writer, producer and head talent scout for Hanna Barbera'srock record division.  Danny and his group Three Dog Night continue to perform sixty to seventy shows a year.
Michael McCarron originally from Drumfries outside Buncrana is the second youngest of twelve children.  At the age of seventeen he emigrated to the Boston where he has lived for over forty years with his wife Margaret and two children Owen and Rosemary.  Michael has always maintained a great connection with his beloved Donegal and shortly after arriving in Boston he became a member of the County Donegal Association of Boston.  He has held many positions over the years including being elected president in 2008, the 100thanniversary of the association's existence.  Michael was humbled and honoured to be president and oversee the centennial celebration in the shadow of all the great presidents and members who kept the association going for one hundred years.  Currently Michael is Vice President of the Donegal Association of Boston.
Cllr. John Campbell, Cathaoirleachof Donegal County Council who attended the award ceremony said that "on behalf of Donegal County Council I would like to congratulate both Danny and Michael on receiving these awards.  The Council has for the last number of years, actively developed strong and meaningful connections with our diasporaand particularly our connections with Massachusetts.  Both these men are great exemplars of Donegal people who have achieved great things in their adopted countries whilst continuing to maintain their connections with home".
Other recipients included Commissioner Joseph E. Finn who was the winner of the Heart of Irish America Award, Michael Alexander, President of Lasell College winner of the Educational Excellence Award, businessman Billy Higgins winner of the Investing in Youth Award, Attorney Sean P. Moynihan winner of the Diaspora Ambassador Award, William J. Sullivan winner of the David Burke Memorial Award and Ammar Afif, Merchant Warehouse winner of the Transatlantic Business of the Year Award.
Posted: 3:35 pm October 20, 2014