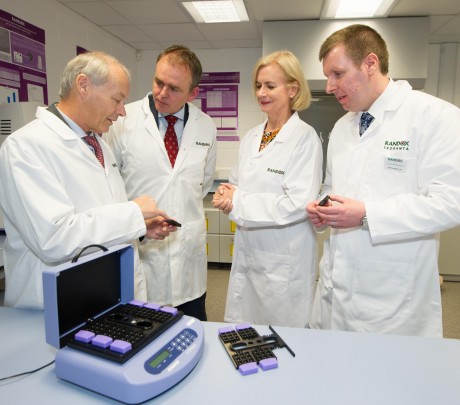 BY C.J.MCGINLEY
Údarás na Gaeltachta today  welcomed the announcement by Randox Laboratories that it plans to make a significant investment of €25 million at its Randox Teo facility in An Clochán Liath and increase its employment figures from 66 jobs to 540 by 2020.
A leading global medical diagnostics company, Randox Laboratories set out a new vision for its life-sciences and engineering research and manufacturing centre in An Clochán Liath.  The company outlined its investment plans for plant, equipment, building works and R&D over the next 5 to 6 years.
CEO of Údarás na Gaeltachta, Steve Ó Cúláin said that this was very welcome news for the Donegal Gaeltacht.  "Údarás na Gaeltachta have supported this company since it was established in An Clochán Liath in 2008. We are committed to working with Randox on their development strategy and vision to establish the facility in An Clochán Liath as a world class research and manufacturing centre.
"The spectrum of highly-skilled jobs that this investment could create would provide significant opportunities to the Gaeltacht labour-force now and in the future and give Gaeltacht graduates living in other parts of the country and abroad the opportunity to return and work in their local area."
Founder and Managing Director of Randox Laboratories, Dr. Peter FitzGerald said, "Today we write the next chapter of the Randox story, a company that is committed to improving and saving lives through innovative diagnostics.
"Our strategy for Randox Dungloe 2020 is a strong demonstration of our commitment to the region, and indicates our commitment to Randox Teoranta as an integral part of our future plans. Our key message today is one of partnership, harnessing the power of the community and the diaspora is the key to help this company grow."
Speaking at the event, Joe McHugh T.D., Minister of State at the Department of Arts, Heritage and the Gaeltacht said "This is a significant announcement by Randox today, a company that is a world leader in clinical diagnostics, stating that its vision is to establish Randox Teo in An Clochán Liath as a centre of excellence and develop the facility as one of the most futuristic and diagnostic manufacturing centres in the world.
"This announcement illustrates the company's huge commitment to the area and its workforce.  I commend Údarás na Gaeltachta for all its work in attracting Randox to An Clochán Liath and the support it has provided to the company thus far. I will be working with Údarás and Randox in the coming months to make every effort to ensure that the company's plans can be brought to fruition."
Posted: 3:57 pm October 20, 2014