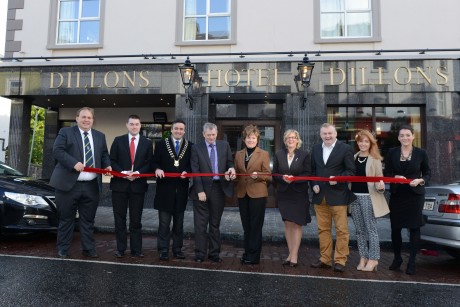 THE first phase of a major €1 million renovation project on one of Letterkenny's most central hotels has been completed this week.
The Letterkenny Court Hotel relaunched with a new name – Dillon's Hotel – by its owners the McKeever Hotel Group, which purchased the property and began extensive improvement work in May.
Six months later and the hotel now features a completely refurbished restaurant seating 80 people along with a new meeting and banqueting suite seating up to 70 guests.
A new public bar area has been created with a grill area serving food all day long seating 120 people.
Outside there's a new marble frontage and signage and as you enter there's a new reception area and a lobby which leads to the coffee bar.
All 30 of the existing staff have stayed on and another 25 jobs have been created including a new senior manager post. Andrew Walker, who formerly managed a four star luxury hotel in Redcastle, has been appointed as hotel manager.
McKeever Hotel Group, County Antrim's leading independent hospitality company, owns the successful Corr's Corner Hotel just outside Belfast, the Dunsilly Hotel in Antrim and the Adair Arms Hotel in Ballymena.
The company has grown extensively in recent years and this is their first hotel in the Republic of Ireland.
"Letterkenny was the perfect location to expand the McKeever Hotel Group into the Irish Republic. Not only do we have lots of family in the area, but it is a vibrant and progressive town with lots of investment and developments currently going on. We are delighted to be here," said Managing Director Eugene McKeever.
The name Dillon's was chosen to reflect the heritage of the Main Street location. "This site used to be a family run supermarket called Dillon's and everyone in the area came to it. We thought it was important to reflect the history of this location, which was always a central hub to this bustling town," he added.
The next phase of the project will begin in early 2015 with a further €500,000 investment in the 58 bedrooms before progressing to the 26 apartments. It is hoped work will be completed by Easter.
"Since coming to Letterkenny and the commencement of this project everyone in the town has been very welcoming and we have definitely felt great support from the town. We have been met with great positivity and we look forward to returning the warm welcome to the townspeople on their first visit to Dillon's Hotel. "
Posted: 12:59 pm October 23, 2014