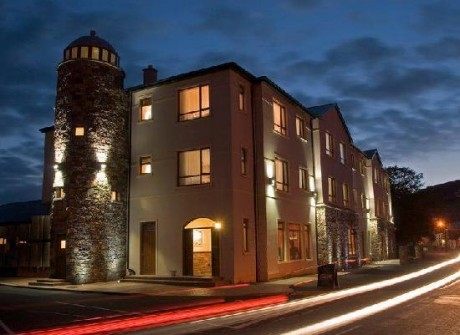 BY C.J.MCGINLEY
THE swift actions of staff and management along with local fire services averted a serious fire at a hotel in Downings on Monday night.
Speaking to the Donegal News, Acting Chief Fire Officer, Mr Sean Campbell, paid tribute to the staff and management at The Beach Hotel, saying their swift action and the way they worked with the fire teams at the scene helped ensure the blaze did not spread. The hotel was destroyed by fire in 2005.
Three people were hospitalised following the fire which broke out at around 11.45pm. The fire started in a bedroom of the hotel and smoke spread through the building. Staff formed a human chain to help rescue a resident just before the emergency services arrived.
"A resident was rescued from the room. Staff did a great job," he said.
"They reacted very quickly after the alarm went off and followed drills. The fire could have spread were it not for the prompt and effective response," he said.
The Acting Chief Fire Officer said fire crews from Mevagh, Milford and Falcarragh rushed to the scene.
"The hotel was evacuated and the fire was brought quickly under control. There was fire and smoke damage," he added.
The hotel remains open for business and the owners are stressing that the fire was confined to one bedroom.
"They are relieved the fire was quickly contained," Mr Campbell said.
Posted: 1:04 pm October 7, 2014