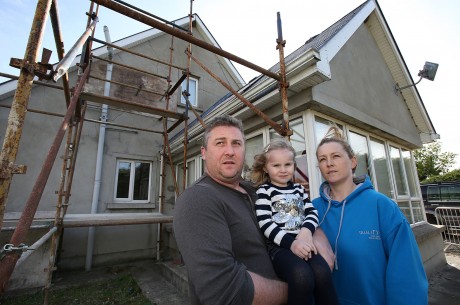 BY C.J.MCGINLEY
A RAPHOE family cannot live in half of their house because it is unsafe.
Speaking to the Donegal News, father of four Mr Karl Murtagh said they would have no option but to demolish the house due to defective blocks.
"Our dream house has turned into a nightmare," he said.
"One of the gable walls is ready to fall in so we've moved a downstairs bedroom over to the other side of the house as we're afraid it will come in on us," he added.
Karl and his wife Shirley moved into their dormer home at Mill Row between Raphoe and Convoy in 2001.
"I bought it off a builder," he said.
"I noticed cracks appearing on the walls and gaping holes so I got two engineers to look at it. The house is crumbling and they've advised us to demolish it. There is no point in fixing the outer leaf if the inside is also about to collapse,"
"We can't afford the repairs. My wife is off work sick at the moment and we're struggling as it is to pay the mortgage. We've joined the local action group Mica in an effort to try and get some redress from the government," he added.
Posted: 2:24 pm October 3, 2014