AN Grianán Theatre's latest art exhibition, currently on display, comes from mixed media artist Samantha Robinson. Robinson specialises in work aimed towards children.
Using an eclectic range of techniques, Robinson creates beautiful artworks that will bring life and excitement to any child's room. The paintings are created using a myriad of different fabrics, paint, ink, drawing, glittered embellishments, buttons, wax and glow in the dark touches. Each piece is a collage layered with texture and colour lovingly crafted by Robinson in her studio.
'Blast off into Space' embodies every child's fantasy of what the universe consists of. Bright colours and glittery swirls wrap themselves around floating planets and dreamy stardust creating a mesmerising universe that anyone could happily get lost in.
As well as paintings of imaginary worlds, there are also classic fairy tale stories such as Little Red Riding Hood transformed into pictures for those children who have their favourite bedtime stories.
Some of the more intricate pieces are one of a kind but repeats can be made on certain pieces upon request. Many can also be personalised with your child's name, birthday or a phrase that means the most to you. Robinson dedicates her time and work to creating the perfect piece to suit every child.
The paintings come in a variety of sizes ranging from 4'x6' to 5ft x 5ft but despite the dramatic difference in size within the collection, each unique piece will transform any room into an imagination haven.
Samantha studied at Chelsea College of Art, graduating in 1999 and since then has been creating one-of-a-kind pieces combining print, drawing and paint. With such a dynamic imagination and having children herself, Robinson happily fell into the world of children's art as that's where her heart lies.
Younger eyes and untarnished imaginations see art in an entirely new way and so Art For Your Children was born in 2008. Although a relatively new venture, Robinson has already collected an impressive fan base including people like pop star Gwen Stefani.
The exhibition continues until Fri 21 November and is open daily expect Sundays and bank holidays. See angrianan.com for more info or call 074 912 0777.
Posted: 1:00 pm October 25, 2014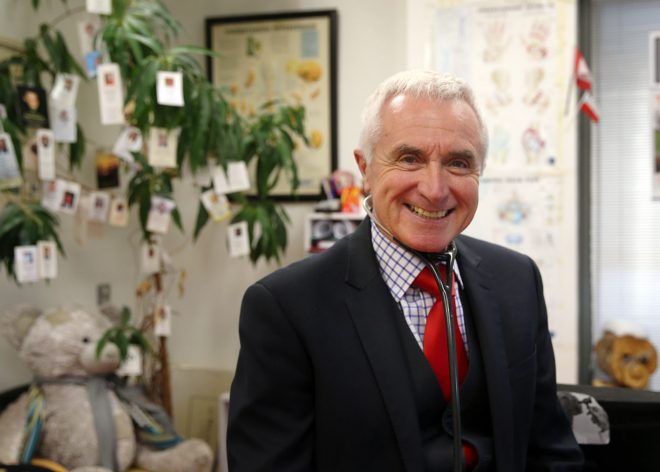 Letterkenny based GP Dr James McDaid said that an 'awful' lot of people across Donegal were using benzodiazepines.