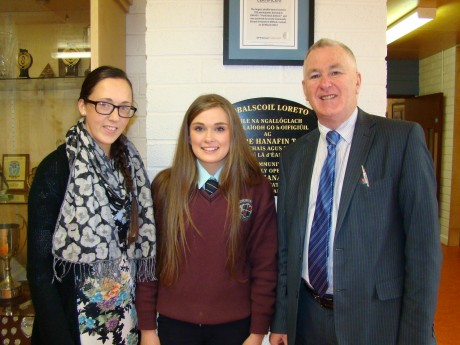 MeabhMcDaid Loreto: Newly elected Youth Councillor Maebh McDaid from Loreto Milford pictured with Principal Andrew Kelly and teacher Nathania McDonnell.
Today is D-Day for young people across the county who have put themselves forward for election to the Donegal Youth Council.
All those elected will go forward to form the 7th Donegal Youth Council, which will see the 36 young people represent their peers in the county for the next two years.
Elections have been taking place in Donegal schools all this week, with a number of seats already filled, and the destination of the final names will be known later today.
The new model has offered the opportunity for every secondary school in the county to have a representative on the Youth Council. Another aspect of the new model has seen the Donegal Travellers Project, Youthreach, Foroige, Donegal Youth Service and Oige na Gaeltachta all take up the opportunity to nominate representatives onto the Youth Council also.
The Donegal Youth Council is a group of 36 young people aged 12-17 years, who identify issues and promote projects to improve the lives of young people in Donegal. The Youth Council aim to represent the views and opinions of the youth of Donegal who don't have a vote, by building and strengthening links with people and organisations that impact on young people's lives.
Next up for the new Youth Council will be their Agenda Day, which is happening in Letterkenny on November 5th with over 150 young people attending, which will aim at establishing the key areas and topics the Youth Council will focus on over the next 2 years.  Donegal Youth Council is funded by Donegal County Council, HSE Health Promotion and the Dept of Children & Youth Affairs and is co-ordinated by Donegal Youth Service.
You can contact the Youth Council via email youthcouncil@donegalyouthservice.ie or you can contact Youth Council Co-ordinator Martin Keeney at 087-6806676.
Posted: 11:52 am October 17, 2014