BY SEÁN P. FEENY
LAST Wednesday night Errigal College officially launched the Letterkenny school's year-long centenary celebrations.
Mr Shaun Purcell, CEO of Donegal Education and Training Board (ETB) launched Errigal College's Centenary Year to a full 'class' of past pupils, former and retired staff members, and friends, noting it was a 'very proud night' for the school.
"Of course, we take great pride of all Errigal College's achievements over the hundred years, but we must also focus on the years ahead. We must look to maintain and improve the high standards that Errigal College preaches and reaches," said Mr Purcell.
Speakers on the night included Cllr Jimmy Kavanagh, Chairman of the Board of Management, Cllr Martin Farren, Vice Chairman of Donegal ETB, and MS Eileen McGuire, Teacher and Home School Liaison Officer. The MC for the night was Deputy Principal, Mr Ciarán Rodgers.
Mr Rodgers referred to the great sense of pride amongst those associated with the school's 100-year history which was reflected in the number in attendance, such as current staff member Ms Elaine McGettigan, Construction Teacher.
Ms McGettigan's mother Nellie Daly (nee McDermott) from Barnes in Termon attended the school until 1965 and later moved to Glasgow, where she still resides.
Ms McGettigan has been teaching at the school since 1998 and was delighted to find her mother in the old attendance books which were on display on the night.
Amongst the former staff members at the function was also Mr Danny McFadden, now Deputy Principal of Deele College, Raphoe, who was also a student of Errigal College.
Cllr Kavanagh said the celebrations were a fantastic opportunity to look back at the great achievements of former students since the foundation of the school, as well as an opportunity to showcase Errigal College.
The councillor also commended the school's staff for their 'sheer dedication' which he said was testament to the leadership quality of the principal, Mr Cannon.
Principal, Mr Charlie Cannon said a very exciting year of events lies ahead for Errigal College which includes a school liturgy, the production of a CD or original songs, the building of a centenary garden, the launch of a new website, open days, the continuation of the school's bicycle scheme, a gala dinner, and a the production of a book.
Mr Cannon spoke of the school's proud history from opening as the Letterkenny Technical College in Henderson's House on Lower Main Street, in October, 1914, moving to Ard O'Donnell in 1942, surviving two world wars and then moving to Windyhall in 1987.
Mr Cannon said the Donegal ETB, then the VEC, had shown a lot of foresight in choosing the grounds at Windyhall for the Letterkenny Vocational School in the early Eighties, which allowed it to expand and develop to what is now Errigal College.
He paid particular tribute to the former CEO of Donegal VEC, Mr Seán Ó Longain, saying vocational schools had 'exploded' in the county during his 35 years.
He told the audience of the great contribution to Errigal College's history by retired caretaker Mr Barney McMonagle (1966-2003). "Even today his guidance is still sought, 11 years after his retirement and we thank Barney for his help throughout the years."
The principal also paid tribute to the work of his predecessors, Mr Paddy McGeehin, Mr Hugh Strain and Mr Hugh Dorrian. He also celebrated the achievements of more recent principals, Mr Patsy Toland, Mr Paddy O'Connor and Ms Anne McHugh.
Ms McGuire encouraged anyone past pupils or staff member with stories of their time at the school to contact them via e-mail errigalcollege100@gmail.com or the Facebook page 'Errigal College – Old Tech Letterkenny Centenary 1914-2014'.
Posted: 5:30 pm October 30, 2014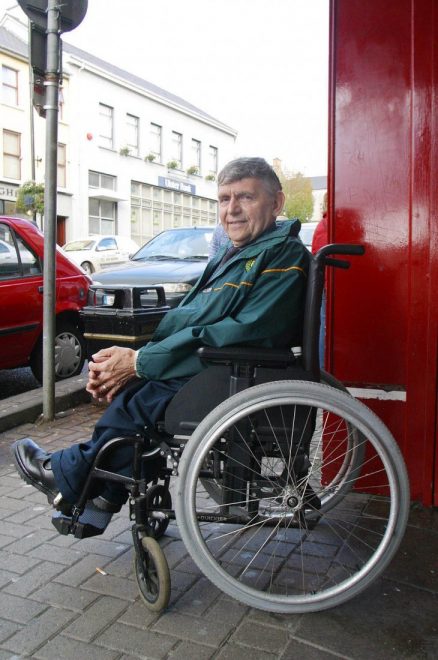 John never received any medals or awards for his contribution to sport but he received many testimonials from people...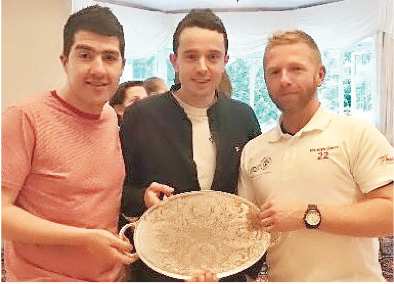 Derek Walker & Christopher Molloy pictured with Kieran Duey of Nancy's Barn Ballyliffin & newly crowned World seafood chowder...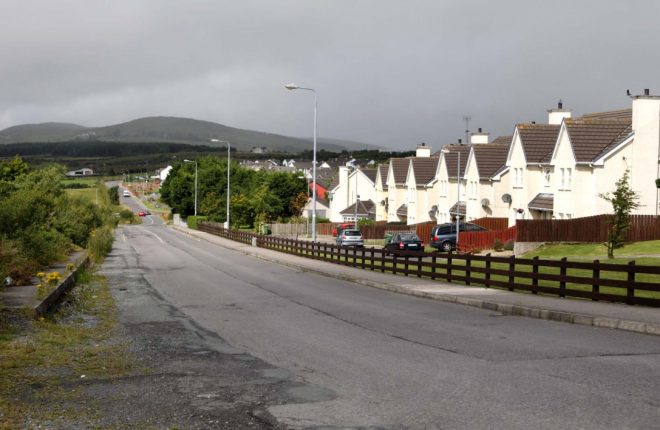 RESIDENTS were left terrified and in a state of shock following an explosion that happened in the Glencar area...