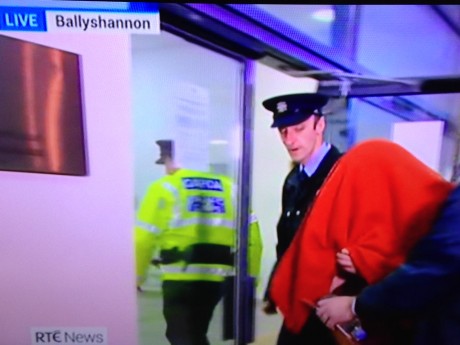 BY C.J.MCGINLEY
THE 42-year-old son of the Carndonagh couple found dead at their home on Thursday morning has been charged with their murders.
On Friday night Julian Cuddihy, was charged before a special sitting of Ballyshannon District Court with the murders of his parents, James (77) and Kathleen Cuddihy (73), a retired teacher and nurse-paramedic
Cuddihy arrived at the district court flanked by gardai and detectives shortly after 9pm covered by a blanket over his head and wearing a wine-coloured hoodie, black tracksuit bottoms and black sports shoes.
As Detective Garda Bernard Mullins gave evidence of arrest, charge and caution, Cuddihy stared at the floor, wringing his hands during the brief hearing
The garda told the court said when he charged Cuddihy at 5.15pm with the murder of his father, he replied only 'I have no response'.
Det Gda Mullins said he also charged Cuddihy with the murder of his mother to which the defendant replied 'I'm not signing that'. Inspector Denis
Joyce asked that the defendant be remanded in custody.
Solicitor, Mr Ray Lannon asked Judge Kevin Kilrane that his client be assessed by a psychiatrist at Castlerea Prison, Co Roscommon. There was no application for bail. He handed in a letter from a doctor in support of his application.
Judge Kilrane asked Mr Lannon of Michael D White Solicitors, Carndonagh, if his client had a history of mental illness.
The court heard that Julian Cuddihy had been assessed by a local doctor on October 15 but he was not psychiatric assessed. "He was previously assessed and there was no diagnosis of psychiatric illness found," Mr Lannon said.
The judge said he would direct the prison authorities to give a psychiatric assessment to Cuddihy. He also granted legal aid.
Judge Kilrane remanded Cuddihy in custody to appear against a special sitting of Letterkenny District Court this Wednesday, October 29.
Posted: 10:43 pm October 24, 2014