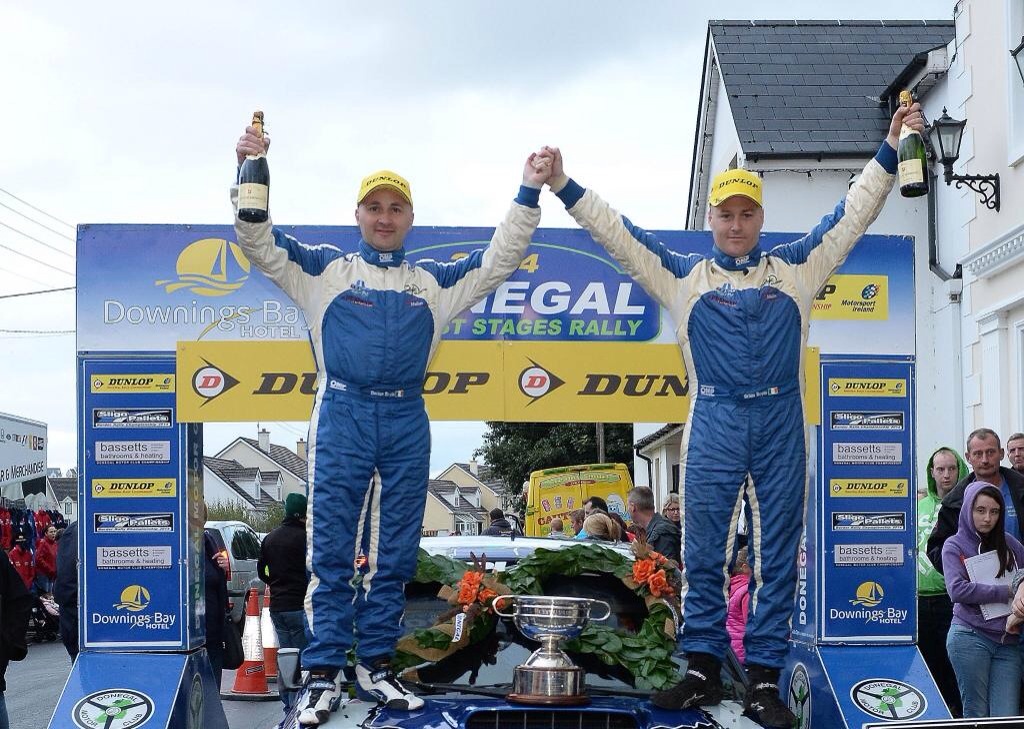 BY CHRIS MCNULTY
DECLAN and Brian Boyle wrote their names into Donegal rallying history on Saturday.
The Lettermacaward cousins won the Downings Bay Hotel Harvest Stages Rally and had a comfortable 1 minute 34.1 seconds to spare on Donagh Kelly and Kevin Flanagan.
In doing so, the Boyles secured retention of the Dunlop National Rally Championship title, to sit alongside the Irish Tarmac Championship crown already sealed.
Declan Boyle is now the the first Donegal driver to win both the Donegal International and Donegal Harvest rallies in one year in over two decades and only the second driver ever to have won the Irish Tarmac and National Rally Championships in the same season.
The Boyles knew their aim heading into Saturday's nine stages. They had to finish ahead of Roy White and James O'Brien. With the MG ZR of White coming home in fifth, Boyle had the title tucked away in style.
The last time both Championships were won in the same season, Meath's Tim McNulty was the man atop the podium – in the same S12 B Subaru now driven by Boyle. McNulty won both at the wheel of 'JT07 SRT' in 2011.
"It's been absolutely brilliant," a delighted Declan Boyle said.
"To finish here on Atlantic Drive, which has been so good to us, is great. The conditions were absolutely terrible going into that last stage, but we went in just hoping to get through it."
The Boyles laid the gauntlet on Saturday morning and after the opening two loops of Bunlin Bridge and Port Lake were 44 seconds in front.
Declan said: "That's where the work was done. It killed the spirit of the rest of the boys. We just caught them on the hop in the wet conditions. It's great to get here."
The Boyles have only been operating since 2009, but have taken the sport by storm and have no plans to rest on their laurels.
Declan said: "It's been fantastic what we've done since 2009. We work well together and hopefully we have more in us."
Frosses man Donagh Kelly was in second place, with Kevin Flanagan on the notes in the Focus.
"I didn't expect to take this race to Declan," said Kelly.
"You have to take your hat off to Declan – he has been very impressive in every sense. It'll take someone with a lot off tools in the kit to race him. We were a bit rusty, but happy to be second. Port Lake was treacherous so we had to take it easy. We're happy where we finished and we enjoyed the day."
Omagh's Seamus Leonard came home in third – his run in the S14 Subaru his first time at the controls of a left-hand drive car.
"The stages were great," he said.
"Plenty of narrow steering – that's what rallying is all about. We need more stages like that."
Martin Doherty finished twelfth overall and, for the third year in a row, took the Group N honours.
Last weekend, Ardara's 'Flying Milkman', Declan Gallagher, sealed victory in the modified section of the national championship. With Ryan Moore again on the notes in the Starlet – 'a hardy wee yoke' Gallagher says – they finished an excellent season by finishing fourth and winning the two-wheel drive category.
"We had a great run there," said the 'Fear Bainne'. "We're delighted to get here. We were on top form and the boys did a great job on the car. It was a tight week after last weekend. A lot of work goes into these rallies.
"This has topped the year off in style."
RESULTS – THE TOP 20
1 Declan Boyle/Brian Boyle Subaru WRC S12B
2 Donagh Kelly/Kevin Flanagan Ford Focus WRC
3 Seamus Leonard/Paul McLaughlin Subaru S14
4 Declan Gallagher/Ryan Moore Toyota Starlet
5 Roy White/James O'Brien MG S2400
6 Frank Kelly/Liam Brennan Ford Escort Mk2
7 Kevin Barrett/Gary McElhinney Subaru WRC S14
8 Niall Maguire/Paul Goodman Subaru S11
9 Frank Wray/Joe McNulty Subaru WRC
10 Damien Tourish/Domhnall McAlaney Ford Escort Mk2
11 Damien Gallagher/MacWalsh FordEscort Mk2
12 Martin Doherty/Conor Foley Mitsubishi Evo 9
13 Richard Moffett/Eamon Hayes Toyota Starlet
14 John Bonner/Leon Jordan Ford Escort Mk2
15 Martin McGee/Denis O'Mahoney Ford Escort Mk2
16 Trevor Bustard/John McCafferty Mitsubishi Evo 9
17 Shane Maguire/Stephen Thornton Mitsubishi Evo 9
18 Raymond Conlon/Gary McKenna Toyota Corolla
19 Dessie Keenan/Enda Sherry Ford Escort Mk2
20 David Moffett/Fintan Sherry Toyota Starlet
Posted: 8:30 pm October 13, 2014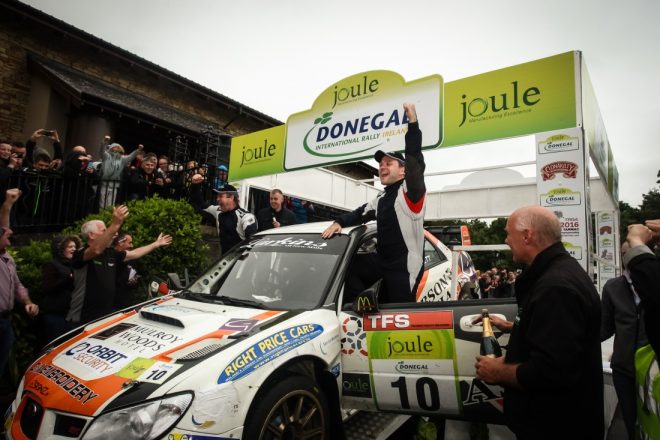 The official launch of the Joule Donegal International Rally takes place on Friday at the County Council Offices starting...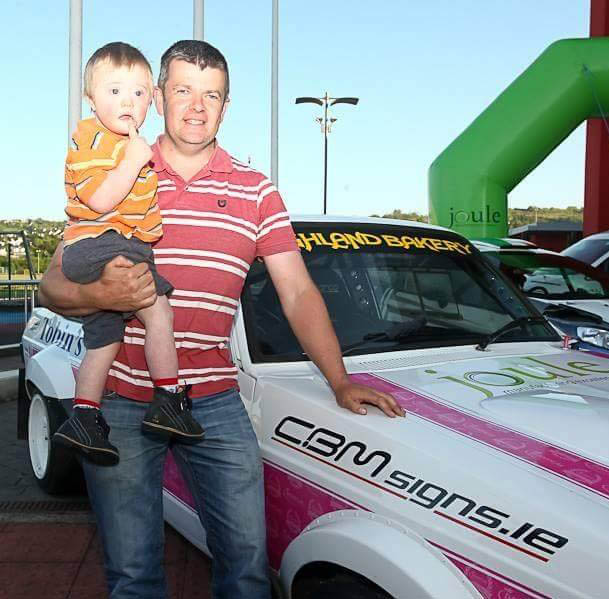 TOMORROW (Saturday), Letterkenny businessman and Donegal Motor Club member, Danny McMenamin, will compete in the Cambrian Rally in North...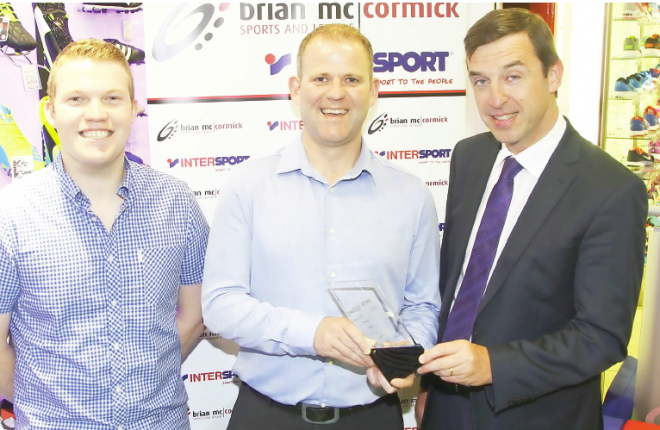 MANUS Kelly has just experienced a month that he never anticipated in having in his 'wildest dreams.'