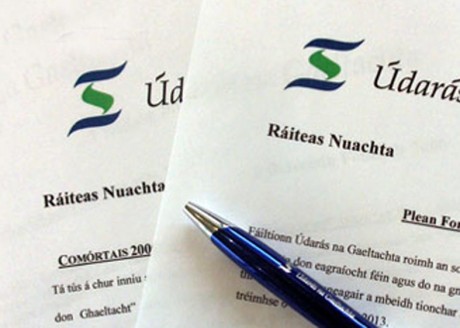 BY C.J MCGINLEY
A total of 220 new jobs were created in the Donegal Gaeltacht in 2013.
There were 1,942 full-time equivalent jobs in Údarás na Gaeltachta-supported companies in the Donegal Gaeltacht at year end.
When job losses are taken into account, there was a net gain of 64 new jobs, an increase of 3.4% on the previous year, according to the annual reprt.
New jobs were created in companies throughout the Donegal Gaeltacht, such as Randox Teo, An Clochán Liath; Arán Ard Teoranta, Ard a Rátha; Comhlacht Iascaireachta Fánaid Teo, Fánaid; Faisc Miotail Éireann Teo, and in new projects such as Mobileonix Teo and Millíní Adhmaid Dhún na nGall Teo which are located on the Gaoth Dobhair Business Park.
Companies operating in the tourism, construction, services and manufacturing sectors shed jobs throughout the year, including the closure of the Largo Foods premises in Gaoth Dobhair with the loss of 140 (110 full time) jobs. Up to fifty workers have relocated to Largo's headquarters in Ashbourne.
Chairperson and Arranmore Island native, Anna Ní Ghallachair said Údarás was continuing to fund a range of enterprise development and employment creation initiatives, with a particular focus on the aquaculture, fish processing, life sciences, food, tourism and creative enterprises (media, arts, language-based/culture-based) sectors.
The Board Chairperson said one of the impediments to further job growth was the lack of business infrastructure such as the absence of high speed broadband at a competitive cost.
"This places many Gaeltacht companies at a competitive disadvantage and efforts are continuing to address this deficiency. In order to harness employment creation opportunities, an tÚdarás requires a business infrastructure appropriate to the needs of existing clients and emerging startups.
"One of the main impediments to further enterprise stimulation and job creation in the Gaeltacht is the lack of adequate business infrastructure," Ms Ní Ghallachair said.
Posted: 4:09 pm October 14, 2014