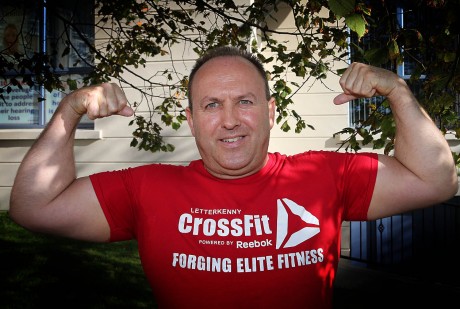 POPULAR Letterkenny man Laurence Wilkie turns 50 next month and will be a much fitter and healthier version of himself for the big celebrations.
A former bodybuilder, Laurence gained weight following a battle with depression in recent years. However, he has now turned his attention to training for a healthier lifestyle and has shed three stone already.
This week he spoke to the Donegal News about his determination to lose weight, a possible return to bodybuilding and his excitement for his birthday celebrations.
"Back in 1994, I started natural body building at Letterkenny Community Centre. I entered lots of competitions and made it through to the finals of Mr Ulster. But for seven or eight years I wasn't well. I suffered from depression and the medication I was on made me gain weight."
He continued: "I had reached 17 and a half stone and I'm only five foot four tall. Earlier this year my sister told me that I had to so something about my weight or I was going to have a heart attack. I knew she was right."
With his 50th birthday approaching in November, Laurence's sisters Anne and Noeleen knew that he wouldn't turn down the opportunity for a party.
"They told me that unless I lost weight then there would be no party," said the Ard O'Donnell man.
In May of this year Laurence made his first visit to Fithub at the Mountain Top in Letterkenny. A dedicated regime since then, under the supervision of trainer Garvin Walker, means that Laurence is now well on his way to reaching his target of 13.5 stone.
"I have to say it was very hard at the start but I started following the eating plan that Garvin gave me. I would have grilled bacon and scrambled eggs for my breakfast and fish and green vegetables for my dinner. Soon, the weight started to come off, I knew I had to persevere and just keep going and in four months I've lost three stone."
He added: "For the first time in my life I'm able to do burpees where you go from lying flat on the floor to jumping up onto your feet."
Laurence trains for one hour three times a week at Fithub and has recently gone back to weight training at Letterkenny Community Centre. With his new physique coming into shape he is also considering a return to bodybuilding.
"Letterkenny Community Centre is where it all started for me when I was 19. My dream is to enter the Mr Natural competition which takes place in Cork next October. The way I'm going at the moment, I think I'll be able to get there. I really have to thank Liam O'Donnell the Manager down there for all his support also," said Laurence.
Given his weight loss success, plans are now in place for the big 50 next month. "Now that I've lost the weight and planning to lose another stone before next month, the big party is going ahead. It's going to be an eighties disco theme and I'm really looking forward to it."
Laurence also plans to raise €1,000 through his birthday celebrations to fund the building of a house for a poor family in India.
"I write to St Therese – The Little Flower Society in London and I've told them that I'll give them €1,000 from my birthday to build this house in India," added Laurence.
He concluded: "At the moment I feel better than I have ever felt and I have to thank my friends and family for all their support they have given me over the years. I also want to thank God for getting me back on my feet again."
Posted: 4:32 pm October 10, 2014