I'm back! You may or may not have noticed that I have been absent from the paper for a couple of weeks. I decided to take a little summer break and concentrate on projects that I am currently involved in.
There is a lot going on at the moment and allocating enough time for each task is my biggest downfall! It is exciting though.
One of the biggest challenges I have been privately preparing for is my driving test. I know it is not related to my campaign but I want to share the experience with you regardless as it was a huge deal for me.
Since 2005 or perhaps even earlier, I have wanted to pass my test. I began lessons around this time but after a short period I began having issues with my hip and that stopped me from progressing. I noticed a routine was beginning to form.
Every time I would push myself back into driving lessons something would happen with my hip and disrupt things. It was so unbelievably frustrating as I was determined to learn how to drive.
Years passed and I had little moments of driving with a provisional licence, I even had my own car at one point but then my hip failed again and set me back.
By the time I was strong enough to get back in to it my provisional had expired! This year I said to myself that enough was enough, I didn't care whether I was in pain or discomfort, I was going to pass my test in 2014 if it killed me! I was advised by various people to perhaps think about applying to do my test in an automatic  vehicle as it would be easier on my hip but I wanted to do it 'right'. I didn't want a specially adapted car and I didn't want an automatic.
On Wednesday, September 17, I passed my driving test, first time. I am delighted! Sitting your driving test is something we all have to do so some of you may be thinking that I am making a bigger deal about this than necessary, and maybe I am, but when you have wanted something for so long and have had it taken away so many times it can wear you down.
There were times I began to think driving a regular car would not happen for me again. However I have learned that perseverance really does pay off.
I would like to thank my driving instructor Danny from Swilly Drive for his guidance. I couldn't have done it without him.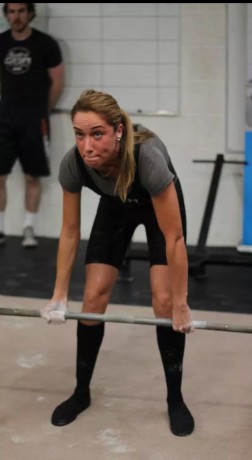 World Champion Maria McShane
Straight after my driving test on Wednesday I popped up to Motiv8 Fitness to meet a World Champion. Maria McShane (26) decided to join her local gym last November. That same day she deadlifted 100kg.
Her trainer Mick Coleman saw potential in her and they quickly began preparing Maria for competitions. To date Maria has competed four times and has done extremely well in them all.
In February 2014, just three months after she first lifted, Maria competed in the Single Lift Qualifier and came second in her category. That alone is an amazing achievement.
She then went on to the World Drug Free Powerlifting Championships in Germany where she won first place. She also broke an Irish record for lifting 130kg.
Her third competition was held in Galway where she won second place and moved up in her weight category to 58.5kg.
That is 58.5kg of muscle I might add! Her most recent competition took place in Wexford two weeks ago where Maria won second place.
She admitted she felt frustrated at coming second as she would have won had it not been for a knee injury.
During each lift participants must 'lock' their body, otherwise their lift is not counted. Maria said that people were shouting at her to lock in her knees but she just couldn't. Her  left knee is prone to dislocation and she would have risked further injury had she gone ahead.
 
I asked her how she felt when she won first place at the World's and she told me she was shocked beyond belief. I have met her a couple of times through mutual friends and as a person she is very unassuming.
Boasting about her achievements is not her style. What I like about Maria is the fact that you would never guess she is a powerlifter.
She has the ability to surprise people with her strength which is pretty cool. It is not easy though, competing at her level involves a strict diet in the lead up to competitions which can be difficult to stick to.
During normal training periods Maria allows herself a cheat day as she believes it is important to allow nice foods in moderation.
As I was packing up my things and getting ready to leave I asked Maria what she wanted to achieve in the future.
She told me she wants to break a Guinness World Record! There is no doubt in my mind that Maria will go the distance.
Her strength is unbelievable, I witnessed her lift 100kg which she managed with ease. It will be interesting to see how far she goes with this sport.  Maria trains with fellow World Champion Mick Coleman at Motiv8 Fitness in Letterkenny.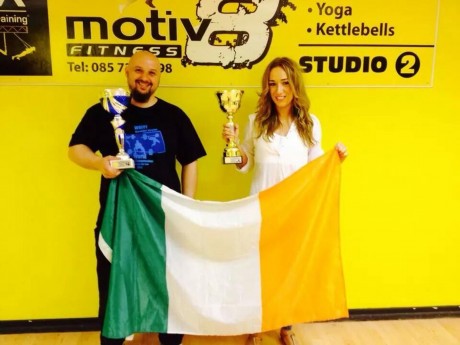 Nikki Bradley is the founder of Fighting Fit For Ewing's, a campaign to promote awareness of Ewing's Sarcoma. Nikki is sponsored by All Sports in Donegal Town. Support her campaign by giving 'Fighting Fit For Ewing's' a LIKE on Facebook or follow her on Twitter @nikkibradley59
Posted: 6:30 am September 24, 2014