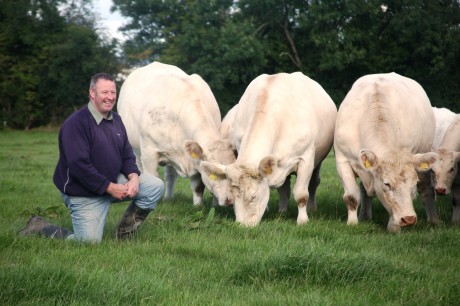 BY C.J.MCGINLEY
Over 100 Charolais cattle are set to come under the hammer at Raphoe Mart on Saturday 27th September when Ian Maxwell's noted "Deeleview" herd is dispersed. 
This is one of the largest sales of its kind for some time, and is sure to create interest among new and established breeders.
Charolais cattle were first introduced at Carrickbrack in the late 1960's when Ian's
father Joe purchased some grade register cattle.
The natural progression was to obtain some pure females, and this was done in the 1970's when a trip to France resulted in the purchase of three maiden heifers.
Included in this importation was the Lustucru daughter "Nougatine" who had a tremendous impact within the Carrickbrack herd with 24 progeny recorded.
Ian and his  brother Noel decided to separate their cattle in 1996, and it was at this time that Ian formed the Deeleview prefix.
A great granddaughter of Nougatine – "Deeleview Majella" by the well known sire Escott Dollar was one of the earliest females registered in the herd with the majority of the herd tracing back to this cow.
The use of artificial insemination has allowed continued improvement of the herds genetic base. Sires include Crossmolina Euro, Inverlochy Ferdie, Elgin Davinci, Fury Action and Genereux to name a few. 
The Deeleview herd is run on a commercial basis, with each cow rearing its own calf naturally. The in calf stock within this catalogue have not been meal feed prior to the sale, and cows are recently weaned. They are in their "working clothes" to allow them to perform well for their new owners.
Stock from the herd have continually been sought after by commercial farmers and pedigree Charolais breeders. Highlights include Deeleview Evan who sold for 7800 euros  at the ICBF, Tully and Gene Ireland Elite High Health Sale. Also Deeleview Fireman who realised 6100 euros at the Spring sale at Tullamore where he was Reserve Junior Champion. There have only been 3 females sold from the herd since 1996.
There has been no showing done since Ian had an accident, and it is due to this that the herd has to be dispersed as he has to have surgery in the next few weeks and recovery period to follow.
The sale is scheduled to commence at 12.30 with viewing from 10am on sale morning. All stock are eligible for export to NI and UK mainland. For more information or to obtain a catalogue contact Ian Maxwell 00353 87 2520420.
Posted: 2:04 pm September 8, 2014