BY CHRIS MCNULTY 
BRENDAN Devenney was speaking at an All-Ireland preview show for DonegalTV last weekend when he brought up the subject of Neil McGee.
The tough-battling Gaoth Dobhair man will play in his 44th consecutive Championship game for Donegal in Sunday's All-Ireland final and his consistency has now almost been taken for granted by Donegal supporters.
Time and time again McGee stands tall against the game's best attackers.
"We just expect this McGee man to take out the forwards all the time – it's just what he does," Devenney said. "We just expect it to happen now. He's been phenomenal."
The bigger the challenge, the better McGee seems to get.
This Sunday, the panache of James O'Donoghue is likely to keep him company for the duration of his All-Ireland final.
Donegal's semi-final win over Dublin has made them the favourites and while the country has lauded the Donegal performance that crushed the reigning champions it's a measure of McGee's standards that he doesn't seem particularly happy.
"Conceding 17 points is a lot for this team over the years, with a couple of exceptions," he says.
"The Dubs are a top-class team, no doubt about, and the scores they have been racking up all year, they will definitely be back again.
"I suppose looking at it from the outside you might have thought it was a great performance, but once we sat down to analyse it now there would be parts of the game we would not be happy with."
McGee has spoken before of the tough nights in Castlefin in the early days of Jim McGuinness's reign when he'd go back around Errigal and be unable to sleep because of the training regime.
"You still get the odd night…but it has never been as bad as the first year," he says, "You get used to it."
Those hard nights and long hours have taken Donegal to a position where they can look opponents in the eye. Don't expect Neil McGee to be first to blink now.
"A lot of those team in the past would have laughed at us and looked down at us," McGee says.
"To get up to that level and take them down is great but it's not something we would gloat about. We wouldn't be those kind of people, we would be a very humble bunch and we are just glad we are where we are and want to make the most of it.
"Once you look at Dublin, they had been beating teams by fifteen, sixteen points all year so they deserved to be rated as highly as they were, the way they were going. I suppose we just caught them on the day and we prepared brilliant for that game.
"I can't say they took us for granted either. They didn't under-perform, I though they played well."
McGee did well to snuff out a goal chance for Bernard Brogan and a critical save by Paul Durcan from Diarmuid Connolly kept Donegal in the mix.
"When you look at it we were in trouble, but we had prepared for them coming out in the first twenty minutes and we knew they were going to throw the kitchen sink at us," McGee says.
"It goes to show the belief we had in Jim, we just kept plugging away and doing the same things and got our rewards. We knew going in at half-time that it was tight and that we were not far away."
When Donegal's bus snaked back to the north-west for the final time last year, the souls were searched and it took some weeks before the show was back on the road. Donegal have more between their teeth now than ever.
"We were back earlier this year and more volume of sessions, training more nights, left no stone unturned," says McGee.
"We first met maybe ten months ago and we sat down and after that, everybody just got the head down and worked on their own for a while. Whoever wasn't fit enough to come back… And once we did come back, everyone was at the level.
"After Mayo last year, boys would have been honest with themselves, it would be an honest group. They knew where they were at and what they had done. Some boys would have said they did not have the work done and put the hand up.
"So we knew where we stood. Everyone has bought into it this year and when everyone buys in to it, there is only one way you can go, and that is forward.
"It probably took us a while and we tried a lot of things in the league and we thought it was a very successful league. It might not have looked that way, but we tried wee different things after the game and once you put together all those little things…"
He tails off but you get his point.
Among those things McGuinness tested in the League was a young man from Gaoth Dobhair by the name of Odhrán MacNiallais. McGee has watched his progress with great interest.
"Odhrán when he first came on, he always had the talent, he is one of the most talented players, he would remind you a bit of Diarmuid Connolly, he had that kind of talent," McGee says.
"He's married that now with hard work. We would train together down in Gaoth Dobhair in the gym and he would have been known a few years ago for skipping the odd gym session. I kept him on his toes this year, I went up to the house to take him down!
"By now, he's down there before you now."
When Donegal were beaten by Monaghan in the Division 2 League final, there were worries in that there was something amiss, but all the while McGuinness had preached that it was all about Derry; the Championship, he reminded, was all that mattered.
McGee says: "Looking back on the league final, we had a massive amount of work done the week before. Monaghan were the better team, no doubt about it. We were maybe trying out a few things that day but it wasn't something we worried about too much.
"We were back training on the Tuesday night and our focus turned to Derry. Getting over that hurdle was massive for us because it was a tough place to go."
Now, just one hurdle remains.
Posted: 5:00 pm September 15, 2014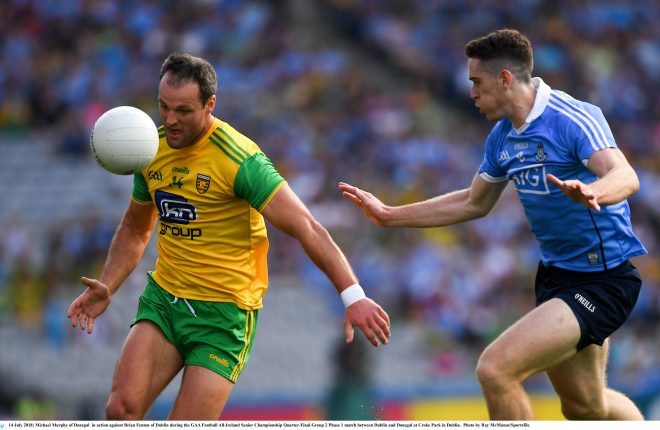 Dublin too strong in Croker.