AN GRIANAN Theatre's latest touring production, the Pat McCabe classic Frank Pig Says Hello, returns to its home venue for one final performance after its very successful 12 venue tour of Ireland.
The play has been receiving a great reception from audiences around the country with plenty of standing ovations and praise for its two actors, Donegal's Patrick McBrearty and Stefan Dunbar from Fermanagh, both of whom are making their professional stage debuts.
Humorous yet harrowing, Frank Pig Says Hello is a black comedy with an inventive fusion of storytelling and role play which sees the two actors play 30 characters between them. Adapted from Pat McCabe's acclaimed novel The Butcher Boy, the play is set in 1960s rural Ireland and is a poignant and provocative journey into the heart and mind of Francie Brady, a young man struggling with life.
Patrick McBrearty is a young actor from St Johnston – from a family of butchers so how fitting a choice this play is for him. A regular performer at An Grianán from a very young age, Patrick's roles include An Grianán's A Midsummer Night's Dream and an award winning turn in Philadelphia, Here I Come.
After studying performing arts in Derry he moved to London to attend the prestigious Royal Central School of Speech and Drama. For Frank Pig Says Hello he has reunited with A Midsummer's Night Dream director David Grant.
Fellow royal Central School of Speech and Drama alumni Stefan Dunbar is a nephew of well known TV and stage actor Adrian Dunbar so acting is definitely in the blood. He began acting at the Ardhowen Theatre in Enniskillen in productions such as Dancing at Lughnasa, The Beauty Queen of Leenane, and The Playboy of the Western World.
Frank Pig Says Hello is at An Grianán Theatre on Sat 4 October – call the box office on 0749120777 and also at the Donegal Bay and Bluestacks Festival at the Abbey Arts Centre in Ballyshannon tomorrow, October 1 and in the Glenties Community Centre on Friday, October 3. See www.angrianan.com for further information.
Posted: 12:35 pm September 30, 2014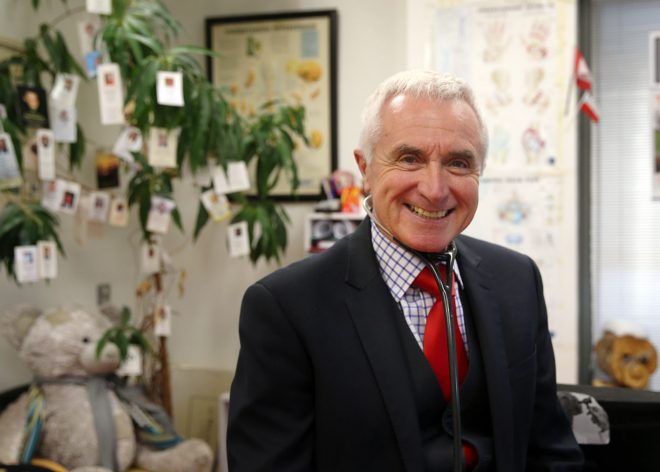 Letterkenny based GP Dr James McDaid said that an 'awful' lot of people across Donegal were using benzodiazepines.