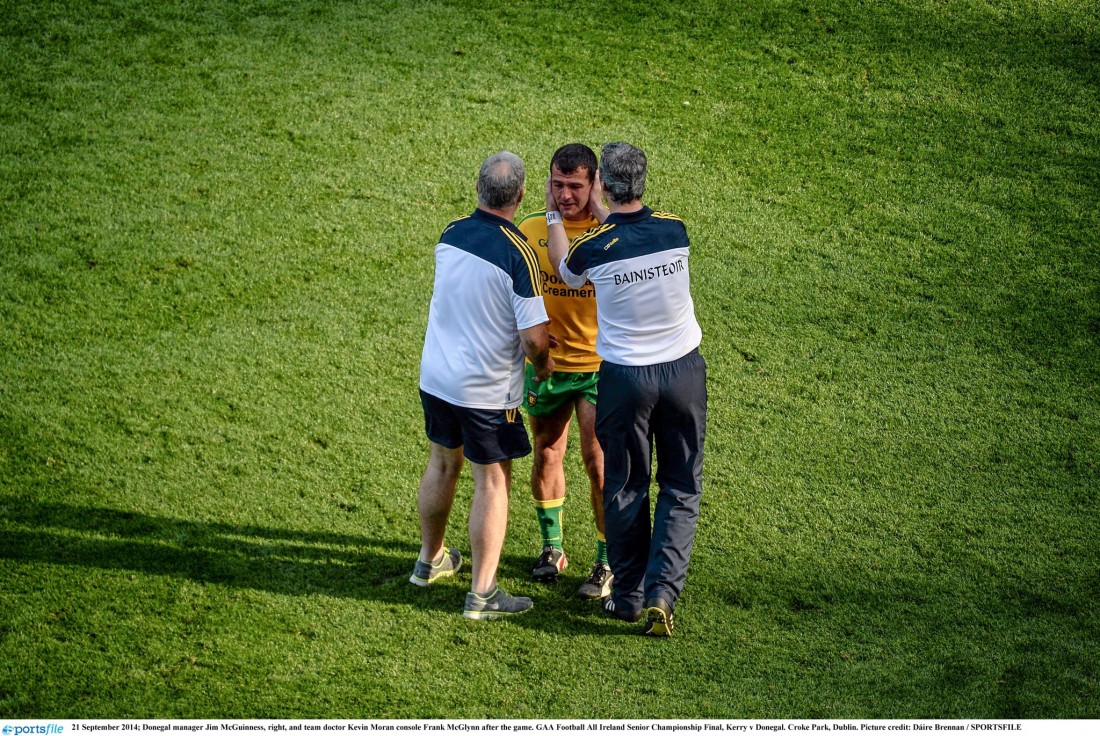 BY CHRIS MCNULTY AT CROKE PARK
USUALLY, Jim McGuinness can accept defeat, provided his team 'leaves nothing out there'.
Yesterday was different for the Donegal manager.
Go back to the 2010 All-Ireland Under-21 final when Dublin pipped Donegal to the winners' enclosure and Michael Murphy's late penalty rattled the Breffni Park crossbar. McGuinness was manager of that side and explained that he 'made peace very quickly' with that loss because his side 'gave it everything'.
Yesterday was different.
"It was the one thing we wanted coming into the game, to have no regrets, to empty everything out there on the pitch and whatever the result was, we could live with it, but now we have to live with that fact that we didn't get anywhere near our performance level and we were within a whisker of sneaking a draw at the end of the game," McGuinness said.
"We're disappointed we didn't perform to the level that we know we are capable of. I spoke about it at the press day and I spoke about it before the game today. We wanted to deliver a performance worthy of the occasion based on the work we had done and on the effort the boys had put in throughout the whole year.
"We didn't get that performance. We looked tired and we looked lethargic. We didn't spark into our normal rhythm. Why that is, I don't know. We'll have to look at the game and reflect on the game."
Against Dublin, Donegal found themselves five points down at two different junctures in the first-half, but they responded in style, as Ryan McHugh's two goals and another from Colm McFadden set Donegal on the road to the final.
Yesterday was different.
Donegal had just one goal chance against Kerry, with Darach O'Connor – 34 years to the day from his father, John, scored a goal after only 35 seconds in the All-Ireland final for Roscommon against Kerry – coming within a whisker of re-enacting some family history.
O'Connor latched onto Rory Kavanagh's pass, but his shot touched off Kerry goalkeeper Brendan Kelly and was a grass-blade from scraping in. That was in the 25th minute at a time when Kerry were just one in front.
McGuinness said: "In the first half, when we were turning ball over, we wanted them to get at Kerry and there was no movement.
"We were on the sideline and Ryan McHugh, we couldn't get him up the field, Rory Kavanagh we couldn't get up the field, Frank McGlynn, these are guys who are excellent ball players, excellent decision-makers who have pace, who could ask questions.
"That's the point I am making, there was gaps in our gameplan today and we needed to fill those gaps with cornerstones of our gameplan.
"We needed more intensity, we needed to be more slick on the turnover, and we needed to out and press the ball more aggressively in the last ten minutes.
"We were caught between two things there too. We needed a goal and we needed Michael in.
"It was our performance that let us down.
"We needed to be giving Michael the ball in dangerous positions and finding Michael inside. When we were playing across the field, looking inside and the space was there, a couple of times our lads didn't deliver the pass or didn't look up to see the space."
Donegal have made a name for themselves with their scoring bursts in the third quarter, which has become something of a trademark for this side.
Even after Paul Geaney slotted in his goal in the opening minute, Donegal came back and got level at half-time.
Yesterday was different.
That burst never arrived and when Kieran Donaghy seized upon a costly error by Paul Durcan, whose 52nd minute kickout went straight into Donaghy's grateful arms. When he plundered the stake, you could feel Durcan's heart sink.
Although Donegal again responded gamely, Kerry always looked able for whatever might be thrown their way.
"Conceding the first goal was a bit of a hammer blow but I thought we reacted to it really well. But we still weren't play the way we normally can. The second goal was a hammer blow and we reacted well. But you have to ask the question why we weren't doing that from open play?
"There are very few positive. How we reacted to the goals were positives, but it is very disappointing that we weren't able to play like that. This is the All-Ireland final, the biggest sporting occasion in the country and you have to really take that opportunity and go for it. We were far too conservative – far too conservative.
"We needed to take the opportunity and go for it, absolutely take the game to Kerry. Any time we did that we got through. Leo McLoone done that, Rory Kavanagh done that and we punched holes.
"Why we didn't do it all the time I don't know.
"We wanted to go at the opposition. Why did it have to be after conceding a goal?"
For Durcan, the moment will have been a living nightmare, but McGuinness certainly wasn't laying the blame on the Four Masters man's doormat.
He said: "People have spoken about the goal we gave away with 'Papa' (Paul Durcan). We lost the game over 70 minutes based on our own performance level.
"I'm going to be critical of no player. Every player who goes out to play in an All-Ireland final they want to win it and they want to give it their best.
"We are disappointed with our performance level. We have a number of things that we work on in every game. We reflect and evaluate them all. This is a game that we will score very low on.
"Everything was good and we had a healthy squad. Our preparation went really well. Why, I don't know.
"We have to look at it, be honest with ourselves and reflect. We have to see what we could have done better and what we could have prepared better.
"Maybe we wanted it to be nine o'clock out in the City West with the Cup, but the game is played at half three. You have to deliver the performance at half three. It's very unusual for us. We nearly always deliver a fairly high octane performance. We didn't get that today and that's the disappointing thing."
McGuinness is back at the crossroads again.
After the disappointment of how 2013 ended, he took Donegal from the flames and landed an Ulster title, promotion back to Division 1 and guided the county to another All-Ireland final, their second in three years.
He said: "It has been a great year, a phenomenal year and they have given it everything. In my own head I am so disappointed for them because I feel they deserved more.
"They have given everything and been very consistent all year.
"We just didn't get that spark that is required to win an All-Ireland. We have won an All-Ireland and we know what it takes to win it.
"It takes a team being very intensive, very focussed and very positive, continually driving through the seventy minutes. We didn't do that enough."
It was one of those rare days when his team just couldn't say that every sinew had been left on the Jones' Road's famous sward and it is that which jars him most.
Yesterday, it was different all right.
Posted: 3:16 pm September 22, 2014