BY HARRY WALSH
CONSERVATION works undertaken by two brothers to protect the shy,
secretive Red Grouse living high in the Acla mountains outside Fintown
has, unwittingly, become a major tourist attraction.
Standing 80 metres high, SAM has captured the imagination of locals
and visitors alike ever since the new creature appeared out of the
heather in the weeks leading up to the 2012 All Ireland final.
It's the handiwork of Joseph Brennan and younger brother Declan from
Shallagans and earlier this week the Donegal News took to the hills to
take a closer look.
"Red grouse numbers have declined to dangerously low levels in recent
years and over the past five or six years we've cut plots of heather
up in the mountain.
"The old heather, which is two foot deep, tall, bushy and ragged, is
cut to promote new growth which provides the staple diet for young
grouse. Our work is approved by the Heritage Council and two years ago
this week SAM appeared out of the mist in the weeks leading up to the
All-Ireland final," Joseph said.
At that time there were a rash of similar projects underway across the
county with walls, houses and even some animals turning green and gold
overnight as Jim McGuinness and the Donegal team sought to bring the
Sam Maguire Cup back to Donegal.
"The catch call at the time was to bring Sam back to the hills so we
decided to go one better and put Sam in the hills," he laughed.
Armed with two strimmers, walkie-talkies, ropes and bamboo rods,
Joseph and Declan quite literally took to the hills.
"We wanted to welcome Sam back to Shallagans as twenty years earlier
Naul (McCole) brought the cup to a neighbour's house – Jimmy Doherty –
as part of his twenty fifth wedding anniversary celebrations. The
following day the Sam Maguire Cup was back in headquarters ahead of
the 1993 campaign," he said.
The result of their handiwork – which stands 80 metres tall – will be
there for all to see for the next decade or more.
"It will take at least another ten years for the heather to grow back
and, hopefully, we'll get the opportunity to welcome Sam back to the
hills on a few more occasions between now and then – starting with
Sunday week," he said.
SAM has attracted many visitors, a number of whom call into Joseph
Brennan's home along the main road at the foot of the mountain to find
out more about the mythical creature.
"He can be seen from three mile away on a clear day and it's amazing
the amount of visitors who call to ask what's it all about. Sometimes
I joke with them that Sam was an ancient Irish chieftain and those
hills were his hunting ground.
"Of course we all know in the parish of Inishkeel and Glenties that
there's only real warrior and that's McGuinness but there's too many
letters in his name to carve into the hill, unless we wrote Jim," he
mused.
"All in all it took about a week to do, starting with the 'S' and
using chord, ropes and bamboo cane to mark it out. It was hard in
places to get a sense of perspective as we went over the brow of a
hill. We would strim a bit and then walk back to the quarry a mile
away to see if we were doing it right. It involved a fair bit of
work," he said.
Looking forward to the All-Ireland final, Joseph says that he'll watch
the action unfold from the comfort of his own living room.
"My knowledge of football is not great coming from an athletics
background but I've huge respect for Jim McGuinness and what he's
trying to do. Let's hope that Donegal are successful against Kerry,"
he said.
With that we come across some fresh grouse droppings.
"At the last count there were six or seven pairs of Red Grouse on Acla
and, hopefully, these conservation works will help to reverse the
worrying trend," he said.
Over the next decade or so Joseph will be hoping that red grouse
numbers will be allowed to prosper to a sustainable level while
another visit or two of Sam to the hills would also be greatly
appreciated.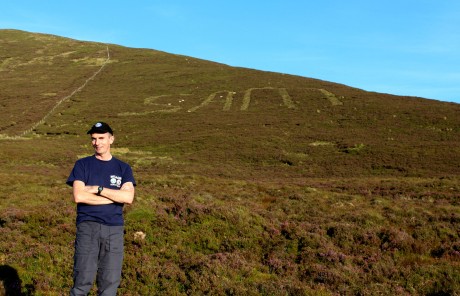 Posted: 4:03 pm September 11, 2014