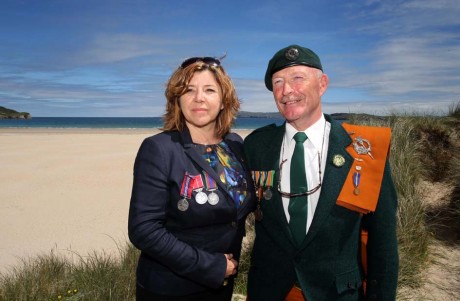 PART of RTE'S Nationwide program tomorrow (Wednesday) evening will be broadcast from Dunfanaghy featuring the commemoration of the American aircraft which beached there in 1942.
In June of this year, 72 years later, a monument was unveiled at Killyhoey Beach to recall the landing of a WW2 Lockheed Hudson Aircraft which had to land when it ran out of fuel.
RTE visited Faugher National School where former pupils had run out to see the landing aircraft.
Local retired army commandant Brendan Rohan heard the story of the kindness of local people in getting the World War Two Lockheed Hudson aircraft flying again after it made an emergency landing on Killyhoey Beach.
The programme details how Brendan contacted the daughter of one of the crew members of that flight – Ramona Dzinkowski – who visited Dunfanaghy to unveil the specially commissioned monument.
The programme will be broadcast at 7 pm on RTE One.
Posted: 3:29 pm September 2, 2014