BY CHRIS MCNULTY
c.mcnulty@donegalnews.com
1.    McGuinness moves out on his own
TO have taken Donegal from the rabble of 2010 to an All-Ireland title just two summers later was considered to have been remarkable. To now have lifted largely the same group of players from the painful Sundays of losing their Ulster and All-Ireland crowns last summer back into September's third Sunday is equally as impressive.
What has marked it out has been the manner of it all. Donegal's destruction of Dublin last Sunday was done with the attack as potent as it has ever looked.
Donegal were awesome on Sunday and it was McGuinness who again masterminded a tactical masterclass. From nulifying Michael Darragh Macauley, to his use of Michael Murphy and the placement of Christy Toye and Patrick McBrearty as big impact men – McGuinness got it nailed on.
McGuinness's management qualities were never in doubt, even if there were certain scribes who would have taken great delight in guttering his name again this week had Sunday not gone the way it did, but there was surely something sweet on Sunday for the manager.
McGuinness will be entitled to be talked of in the same breath as those great GAA managers. Winning Sam again for a second time would cement that place.
He's out on his own.
2.    Ryan McHugh steps out of the shadows
THE words of Martin Carney are still ringing.
A friend of mine happened upon Carney earlier this year after he'd watched Sligo IT play a challenge match in the depths of the pre-Sigerson Cup winter.
Carney talked in glowing terms about a diminutive young player he marked out as one of the 'most intelligent footballers' he'd 'ever' come across. Big words indeed from a man who's seen quite an amount.
Ryan McHugh had caught Carney's eye. He wasn't far wrong.
McHugh was magnificent against Dublin. He scored 2-2 and might well have had at least one more goal had Stephen Cluxton not managed to get the faintest of finger tips to a 54th minute shot.
McHugh's goals were both the work of intellect: His positioning for both was perfect and the manner in which he swept the ball home for his second – rather than catch and have allowed Stephen Cluxton narrow the angles – was that of a player with talent you just can't teach.
Donegal has a star on its hands in the new owner of the number 12 shirt.
3.    Deadball nerves again against Donegal
WHEN Bernard Brogan pulled a free wide in the 45th minute, the seeds of doubt had been well planted in Dublin. The Dubs were still only four in arrears by that stage, but there was the growing feeling that Donegal would soon underpin their control – soon after Colm McFadden netted the third Donegal goal.
Brogan's miss was noteworthy given that he is usually so reliable from such positions. Brogan had three efforts from deadballs on Sunday and scored just once. In his previous four Championship games combined, Brogan had an 88 per cent conversion rate. Under the heat of Sunday's game, Brogan's pot boiled over.
Stephen Cluxton, too, usually has ice coursing through his veins in those moments, but the Dublin captain was another who crumbled. The Parnells goalkeeper had three efforts at the posts and was off target with all three. Granted all three were from difficult positions, but he has found the range from such distances before.
They're not the first free takers to wilt against Donegal when the pressure is really on. Tony Kernan kicked just one successful effort from three in the All-Ireland quarter-final; while Rory Beggan had two out of five in the Ulster final. In the 2013 Championship opener, Tyrone's Niall Morgan landed just one out of six, Sean Cavanagh one out of three and Stephen O'Neill missed the only one he attempted.
Donegal generally don't present the opposition with too many scoring chances from frees and their discipline could again be commended on Sunday. Under such a barrage as they were in the first half, Donegal conceded just four frees inside their own '45 over the entire game.
4.    Unbeatable, eh?
PERHAPS the most gratifying thing for Donegal folk at Croke Park on Sunday was the pre-match odds and predictions. The All-Ireland champions of 2012 were said to have lost their mojo at some point since, but there was something devastating about the manner in which they turned the daggger at the weekend.
Dublin were the shortest odds ever for an All-Ireland semi-final with Jim Gavin's team sitting at 1/10, unbackable in betting shop speak, with Donegal a tasty 7/1.
The pre-match talk was all about Dublin, the juggernaut, the swashbuckling attack who'd munch all before them. At a time in the first half, those figures looked justified as Dublin roared five ahead, the Hill was bouncing and some pockets of Donegal supporters feared the worst. By half-time, it was the fingers up Hill 16 that were being chewed as Donegal led 1-8 to 0-10. They never looked back.
For a game between the previous two All-Ireland champions, a match that pitted the Leinster and Munster champions together, the pre-game scales were tipped massively in Dublin's favour, but the numbers did a disservice to a Donegal team that has been steadily building through the summer.
For Donegal to be 7/1 in an All-Ireland semi-final was, plainly, absurd. Such odds could have been more at home in a game against a team from the Championship's nether reaches.
5.    Donegal minors gave seniors a lift
SEVERAL Donegal senior players mentioned post-match about the lift in their mood that was brought about by learning that the Donegal minors had beaten Dublin 1-12 to 1-11 in the minor semi-final. Ethan O'Donnell's late point sealed a historic win for Declan Bonner's team, who will become the first minor team from these parts to contest an All-Ireland minor final in two weeks' time.
Bonner's team is unbeaten in three years of Championship football and now stand on the brink of etching their names onto the pages of Donegal GAA history.
"I have to say it did give the seniors a real good shot in the arm when they were in doing their warm up when word came through that the minors had won by a point. You could see them stepping up and they really appreciated it," Jim McGuinness said.
"It gave them the confidence to say: 'well Dublin have been beaten in Croke Park, let's see how we fare out.'
"It is fantastic for Donegal football and a lot of people leaving the county and people under pressure for jobs and this is going to be a huge, huge shot in the arm. The most important thing in Donegal for the next three weeks bar none will be football – and that's man, women and child."
Donegal minors have never made hay at national level and success even at Ulster level has been a rarity. However, Bonner's boys have broken the mould – and also proved that Donegal can compete. The 1992 All-Ireland winner said: "I've always said that we should be contesting the latter stages of these competitions year in, year out but there's been a bit of an inferiority complex this last while against the likes of Tyrone in Ulster. They were beaten before taking to the field and we've tried to instil a winning mentality into this group of players."
Posted: 10:00 am September 5, 2014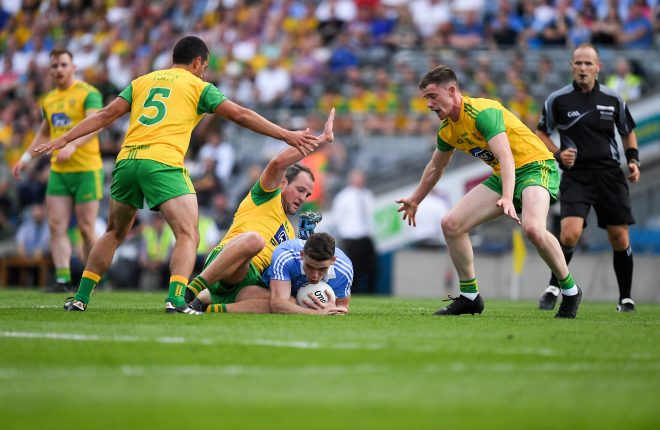 There were high hopes ahead of the first weekend of the Super 8s, but unfortunately the football didn't live...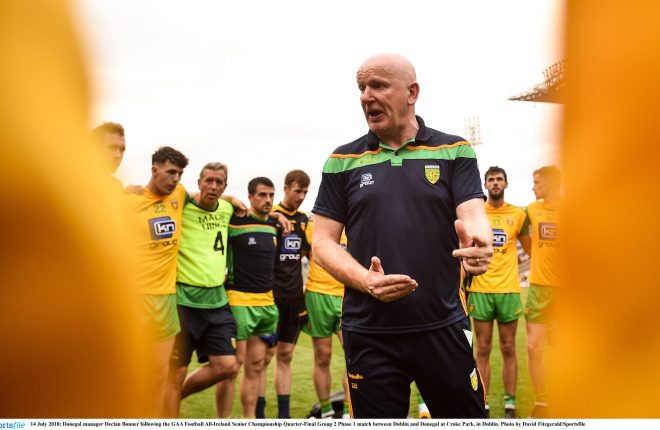 Donegal face Roscommon in Dr Hyde Park on Saturday at 5pm.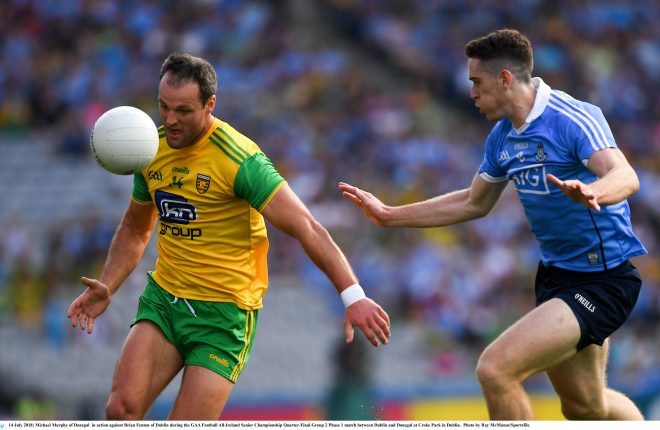 Dublin too strong in Croker.