BY CHRIS MCNULTY
THE distribution of Donegal's All-Ireland final tickets began yesterday evening, Thursday, with the first of the 16,088 allocation being sent around the county.
Donegal has expressed its disappointment at the allocation, up just 1,373 more than in 2012 despite the presence of both the senior and minor footballers in the finals. Both teams take on Kerry in what will be a unique spectacle that will have Croke Park bursting at its seams.
The tickets were printed earlier in the week and the clubs of the county have started to receive their respective allocations.
13,518 tickets – or 84 per cent of the total – have been given to the clubs, with a little more than one ticket allocated to each adult member in the county. Clubs have been allocated 1.2 tickets per member.
"We are all disappointed in the allocation we have received," said County Chairman Sean Dunnion. "We have been informed that there will be no second allocation of tickets coming into the county. The only option will be if other counties return tickets, but I would suggest that the chances of that happening rank somewhere between slim and none.
"People just need to get the feelers out there and hopefully they will be able to source tickets."
The remaining 2,506 tickets will be divided among various strands of the association in Donegal: 1,141 to players, management, support teams, county board and referees; 512 between the main sponsors; 294 to elected representatives, media and former county players residing outside the county; and 64 to be given to members of the 1992 All-Ireland winning panel.
Tickets will also be given to the members of the 2012 All-Ireland winning panel no longer on the county squad.
By today, Friday, tickets for Donegal's post-match banquet – which is being held in the City West Hotel in Saggart – will be available for purchase through the banquet co-ordinator Micheál Naughton. Tickets for the full banquet cost €80 while admission to the 'afters' is priced at €20.
Meanwhile, the Chairman has cautioned supporters about unofficial merchandise which has begun to appear again ahead of Sunday-week's finals.
"There is gear out there that is replica merchandise and is of no benefit to Donegal GAA," he said. "Buy purchasing official gear, manufactured by O'Neill's, you are contributing to Donegal GAA and helping in the finance of our teams. We would appeal to people to only buy our own official products which gives direct assistance to the GAA in Donegal."
Posted: 5:36 pm September 12, 2014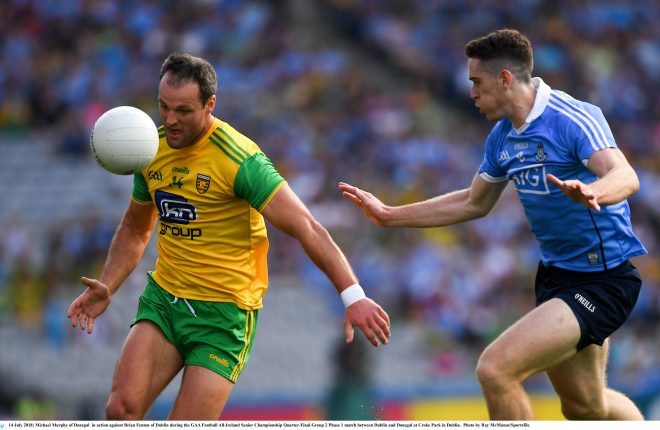 Dublin too strong in Croker.