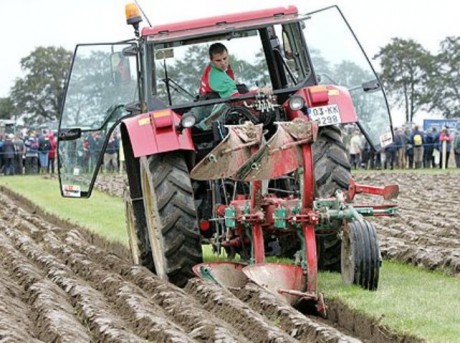 DONEGAL will be well-represented at the National Ploughing Championships which take place in County Laois this week.
The annual event attracts visitors from all over Ireland and this year sees competitors from Donegal taking part in a number of different disciplines.
The National Ploughing Championships takes place each year in the month of September. The 2014 Championships will be held at Rathensika, Stradbally from Tuesday to Thursday.
Matthew Simms and Harry Mallon will be competing in the Intermediate Conventional Plough Class while Donal Deeney will take part in the 3 furrow Conventional Match Plough Class.
The Senior Conventional Plough Class Intermediate 2nd will see Garry Simms competing in his McCormick tractor. The Vintage 2 Furrow Mounted Plough Class will be contested by Alan Simms in his FE35VO tractor and Ransome plough
The Under 21 Conventional Plough Class – Senior Grade will see Donegal man Lee Simms taking part and Hugh Gillespie will represent Donegal in the Standard 3 Furrow Reversible Plough Class.
One of the most watched events of the Championships is the Loy Digging contest. A loy is an early Irish spade with a long heavy handle made of ash, a narrow steel plate on the face and a single footrest. The word loy comes from the Gaelic word laí, which means spade. It was used for manual ploughing prior to and during the Irish Potato Famine.
The Donegal competitors in the Loy Digging events at this year's Championships are as follows: Loy Digging – ladies; Kathleen Donaghey. Loy digging – junior; Ryan McGirr. Loy digging – under 21; Evan McGirr.
Loy digging – under 25; Kieran McDaid. Loy digging – Senior; Gerry Mallon.
Posted: 3:29 pm September 23, 2014