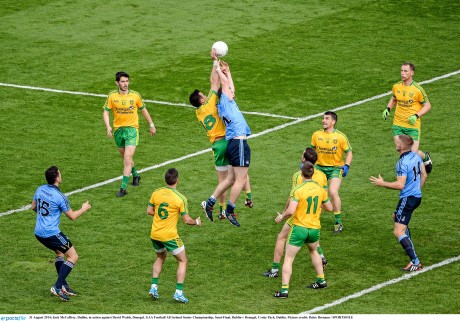 DONEGAL have made a habit of breaking new ground under Jim McGuinness
and I think we'll see them create history again on Sunday.
Since the All-Ireland qualifiers began in 2001, no team has defeated the previous year's All-Ireland champion and gone on to lift Sam Maguire – bar Tyrone who lowered Armagh's colours in 2003 and then ended Kerry's retention bid in 2005 and 2008. Kerry won two-in-a-row in 2006 and 2007, but that is also a lost art these days.
After beating Dublin so impressively, all the talk has been about Donegal. It's amazing the turnaround from the previous week. Now, Donegal are seventy minutes away from a second All-Ireland in three years.
No-one saw this final pairing coming, but I go back to May 25th and they day Donegal defeated Derry in Celtic Park. Something struck me about Donegal that day and said they'd be around into the autumn.
I felt sorry for Cailean O'Boyle and Emmet McGuckin inside at times in the second half. You think about all the shooting practice those boys would have done during the winter nights and into the League. You couldn't count the amout of shots they'd have had at the posts. Time and again, they'd have been kicking at this, that or the other target, just feeling their way in for the Championship.
Then, Championship comes and: Bang! All of a sudden you're in that game you've done so much work for and you aren't even able to face the posts. You don't get a chance.
That day I watched Donegal and thought: This team can do anything. No matter what sort of players you have, if you have a tightly-locked defence, you can be in any game. When you have a bit of attacking power in there to go with it, that's a lethal mix.
The question marks were different in 2011 and were all about how Donegal would evolve to get their attacking power up and work in tandem with the defence that had nearly been perfected. I remember Adam Speer saying that they basically didn't have the time to do certain weight training stuff with the lower body in that first year, 2011, because they had so much to do.
By 2012 they had it nailed – and we saw what happened that year.
The questions this year were harder.
Last year, there was the whole thing with the All-Ireland hangover, not to mention the late return to training and the crippling injuries. The League this year was wishy-washy. It just wasn't convincing. You were all the time wondering: 'What happens when Donegal meet a 'top' team?'.
They came back from Portugal and I thought they'd be buzzing for that Division 2 final against Monaghan. I thought we'd see the Donegal we'd be watching for the summer, but that performance was flat. Monaghan outplayed us and it was worrying.
The Ulster final against Monaghan, for me, was a masterclass by Donegal. This was a team who had outplayed us in the Ulster final last year and in the League final this year.
In this year's Ulster final, we done them. Plain and simple, done them. Rory Beggan was coming up to kick frees and his body language alone told you he'd miss. Mentally, Donegal broke him.
That's the thing about this Donegal team – they can make the opposition believe that they will not win the game. They are capable of getting both inside your head and under your skin. The longer a game goes on, the more you can see it. Derry had kicked a couple of great long-range points and were ahead by two at half-time. Derry never looked comfortable in that lead. They were all the time thinking: 'What next from Donegal?'
It's no surprise that teams break against Donegal in the period just after half-time. You get to the dressing room, you address the issues and you think you have it sussed. Once the ball's thrown in, it's relentless – and it's moments like this where the crowd becomes so important for Donegal.
Every possession, every miss by the opposition, the cheers get louder. Have a look when someone hits a poor shot against Donegal and Paul Durcan will usually always let it go wide rather than collect it. What that does psychologically to a player is unreal.
That, alone, can ruin a man's confidence, especially if they're in a situation where they've been forced to kick long or kick early.
Bernard Brogan in the semi-final was a prime example. You never see him have a day like that. His mind was just turned by Donegal.
When Donegal do this it works in two ways because as much as the other team is wilting Donegal are growing into their stride. It's the Gaelic football equivalant of kicking a man when he's down. To play in that scenario, like when Donegal are bursting forward in the manner they did for Colm McFadden's goal against Dublin must be a real joy.
The beauty about Donegal is the simplicity.
Donegal just do what they do – and there is nothing complicated. It must get so repetitive for players in training, but the method has proved to have worked wonders.
The big dilemma for Eamonn Fitzmaurice on Sunday is how he approaches this game and the question is: Has he the guile, the balls or the confidence NOT to go for it? Can he ask his players to sit and wait?
If he decides he'll go for it and outscore Donegal, I feel he's in trouble.
A lot of people say that it's Kerry and it's the All-Ireland final and they'll point you to a point in time where Kerry did whatever to beat some team.
That sort of rhetoric and history goes back to a time before teams were as well prepared and as well coached as this Donegal team, or any of these top teams. If Kerry beat Donegal in Sunday, it won't simply be because they're Kerry!
It used to be said that Armagh didn't lose replays, but that same logic applied. The reason they didn't was simple – they went back into Armagh and they did hard analysis. They were sore on themselves, but it worked.
It was the same when we played Dublin in 2002 and drew with them. We patted ourselves on the back, but they went in and tore strips off each other. We sauntered back up the next day at the same wavelength and Dublin were taking the paint from the walls. They beat us out the gate!
Fitzmaurice has a 'will I, won't I?' on his hands when it comes to Kieran Donaghy on Sunday. When you think of all the hype and talk that has been about Donaghy in the last couple of weeks, it's mad to think that he was only put in when they were getting desperate and needed to pull the thing out of the fire against Mayo. If I were the Kerry manager, I wouldn't start him, but I'd leave him to try and make that impact again off the bench.
Does he have the fitness to be an interchange player? Probably not. At a raw fifteen versus fifteen, himself and Eamon McGee would have some ding-dong battle. I think the McGee boys will be well fit for whatever Kerry throw at them.
Could you say the Kerry forwards will be looking forward to this game? I doubt it.
Donegal have been really energised by the young lads like Ryan McHugh and Odhrán MacNiallais. They're giving the finesse needed to that rigid set-up. It gives them width and an ability to really hurt teams on the break. We have unearthed two gems – they're the Young Player of the Year and an All-Star in waiting.
When you strip it all back, the one man who'll win the All-Ireland for
Donegal will be Michael Murphy. We just expect the big things of this guy now.
When I was playing, if someone asked me to go out to half-forward even I'd have flipped!
Murphy does everything so well and there is so much stupid talk about his game and what he contributes. There is no-one better than Murphy – no-one.
It's an interesting relationship he has with Jim. He is more than his best player and captain. It's the way he leads. He has grown into the role so much. You see him doing the right thing all the time and that spreads through. When you have Jim repeating, repeating, repeating and Murphy just doing that all the time, that is why Donegal have become the force they have.
Sunday is the day to ram home the message.
Posted: 9:00 am September 20, 2014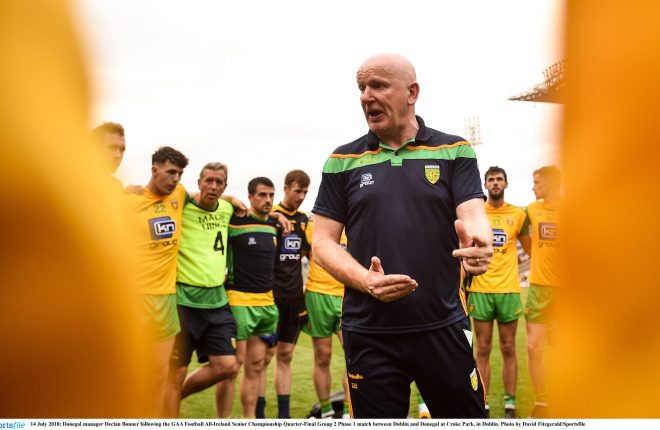 Donegal face Roscommon in Dr Hyde Park on Saturday at 5pm.