BY CHRIS MCNULTY
DONEGAL fans have again been warned that there will be no second allocation of All-Ireland final tickets given to the county ahead of Sunday's senior and minor double-header against Kerry.
A message on the official Kerry GAA website on Saturday apparently announcing a 'substantial second allocation' raised hopes that a flurry of extra tickets might make their way into Donegal.
However, those hopes were quickly quelled when it was confirmed that Kerry hadn't, in fact, been granted a second batch of tickets.
"What that is, is that they don't distribute all of their tickets at the one time in Kerry, so this is basically the second distribution of their first allocation," said Donegal Chairman Seán Dunnion.
"They seemed to have held back some of their tickets to see what the demand was like."
The Kerry notice said that the second allocation was on the way on Monday. 'Kerry County Committee are very confident that the ticket supply will then meet the demand,' the announcement said.
The same cannot be said in Donegal where the scramble is very much on.
Just 16,088 tickets have been allocated to the counties. In Donegal, 13,518 have been distributed among the county's forty clubs and over the last few days the prized tickets have begun to filter down to members.
"We were disappointed with the allocation, but there will be no extra tickets coming," Mr Dunnion added.
"If the demand isn't so serious in Kerry, things might start to loosen up towards the end of the week, but I can't see there being many returns from counties."
The Donegal minor and senior teams have returned from their respective final preparations ahead of All-Ireland week.
Jim McGuinness's seniors spent Tuesday-Sunday in Lough Erne where the battle plans were formed.
Rory Kavanagh and Paddy McGrath have recovered from minor strains and Michael Murphy will have shaken off a dead leg by the time the ball is thrown in on Sunday.
McGuinness said: "We hope now we can go one more step and enjoy it as a group."
Declan Bonner, meanwhile, hopes to land a first ever All-Ireland minor title when his side take on Kerry in Sunday's curtain-raiser.
Eoghan Bán Gallagher is rated as '50-50′ by the manager having missed the semi-final win over Dublin with a hamstring injury. Corner-back Colm Kelly is a doubt, too, with a knee problem.
Bonner said: "They're concerns and we'll keep monitoring them, but we will give them ample time. We have to be careful."
Posted: 12:24 pm September 15, 2014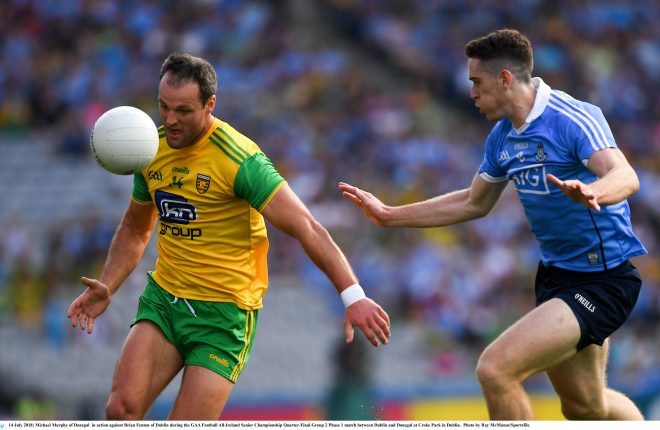 Dublin too strong in Croker.