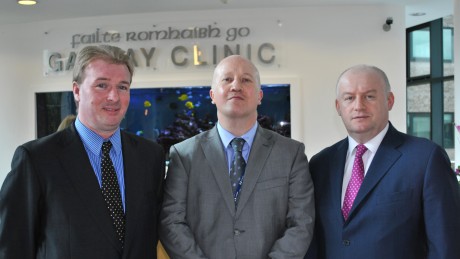 (Consultant Urologists/Robotic Surgeons who are performing robotic-assisted prostatectomy surgery on 50 public patients in the Galway Clinic this year as part of an agreement with the West / North West Hospitals Group, from left: Mr David Bouchier-Hayes, Galway Clinic; Mr Garrett Durkan, Galway University Hospitals; and Mr Paddy O'Malley, Galway Clinic.)
Up to 50 public patients from across the West of Ireland will undergo revolutionary new robotic-assisted prostatectomy surgery in the Galway Clinic this year as part of an agreement with the West / North West Hospitals Group with support from the HSE National Cancer Control Programme.
The 'da Vinci' robotic surgical system in the Galway Clinic is one of only three such devices in Ireland and the procedures are being carried out on a weekly basis by a Consultant Surgeon from University Hospital Galway (UHG) supported and mentored by two expert robotic surgeons from the Galway Clinic. This initiative will cost approximately €650,000 which is being funded by the West / North West Hospitals Group. The 50 procedures at the Galway Clinic are in addition to the urological surgery which is ongoing at UHG.
The programme has been running since January and 30 procedures have already been successfully completed.
The robotic procedure carried out using the 'da Vinci' system involves five small incisions instead of a larger single incision. The robotic surgical system features 10-fold magnified 3D high-definition vision and special instruments to enable the surgeon to operate with enhanced vision, precision, dexterity and control compared with standard key-hole surgery.
Patient benefits include faster recovery, less bleeding, fewer blood transfusions, less pain and therefore a shorter hospital stay, resulting in reduced hospital costs. There is also a wider economic benefit as patients are able to resume normal activities and work earlier.
Ireland has the highest incidence of prostate cancer in Europe with over 3,000 new cases diagnosed annually. This number is expected to significantly increase over the coming decades as the population ages. The 'West' is the region that has the highest incidence of the disease nationally.
"We are delighted with the outcomes of the cases to date and we look forward to offering this procedure to many more patients from across our catchment area. I would like to thank Mr Paddy OMalley and Mr David Bouchier-Hayes (both Consultant Urologists/Robotic Surgeons at Galway Clinic) for their expert care and training. In addition, I would like to thank Bill Maher, Chief Executive, WNWHG and Joe O'Donovan, Chief Executive, Galway Clinic, their respective management teams and my Urological Colleagues at UHG for their support in getting this fantastic initiative up and running", stated Garrett Durkan, Consultant Urological Surgeon, UHG.
"This is another milestone in the development of prostate cancer services at UHG and within the West / North West Hospitals Group", stated Bill Maher, CEO of the Hospitals Group. "This initiative gives 50 public patients from across the West of Ireland access to a state of the art HIQA approved technology. It reflects the overall approach of the Hospital Group to putting patients first and constantly looking for new ways to enhance access to services and to improve service quality."
Posted: 10:56 am August 29, 2014