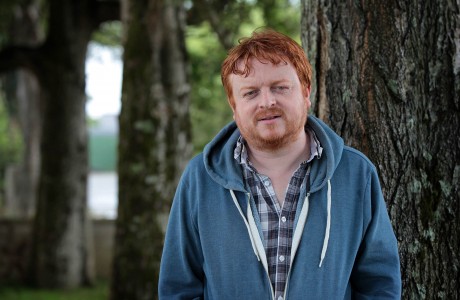 A FALCARRAGH-born Trinity College graduate feels he has been insulted after writing to the Minister for Employment Richard Bruton expressing his frustration at trying to find employment locally.
Paul Alan Bonar, who now lives in Letterkenny, told the minister what he thought of the various employment schemes and how the extra €50 a week, over and above the dole, doesn't even cover the cost of taking part in some schemes.
Paul, who is 36 years of-age, is well-known in the local artistic community. He was involved with AyeTV and has played the fictional character Gary Gamble.
Earlier this month he wrote to Minister Bruton and TDs. He was unamused by a reply from the minister's constituency office and said he had been "fobbed off". He has pointed out to the minister that from anecdotal evidence, he can say without question, that he is not the only person in the county who feels this way. 
"I have over 20 years' involvement in theatre, in a wide variety of roles within that field, most recently as a drama facilitator. I have also worked in film and TV. I have a degree in Drama and Film from Trinity College, Dublin as well as a diploma in Performing Arts and a Certificate in Media Production among other qualifications. I also run an amateur film production company that produces a high standard of work on zero budget. I graduated from Trinity College with a 2.1 back in 2010 and returned to Donegal shortly after that and currently live in Letterkenny.
"My affection for this town is often negated by its lack of paid job opportunities, particularly in areas relating to my skill set which includes drama facilitation and youth work. Since returning to Donegal in 2010 the only employment I can find has been in various employment schemes," Paul points out.
Suitable schemes  
He said he has reached a point where he has exhausted just about all of these schemes. Recently he noticed Community Employment Schemes that would be very suitable for him, but because he has just come off one scheme he cannot apply for another.
"I have to wait around a full year and become a short-term unemployment statistic and justwhen I am about to become a long-term unemployment statistic, not only will I become eligible, I will be expected to apply. In the meantime, I just spend 12 months in frustration of seeing suitable vacancies only to read 'this is an unpaid position'".
Move away
Paul explained that he must once again look beyond Donegal to find work.
"A return to Dublin or England is most likely, as I am in the Catch-22 situation of not being in a position financially to emigrate to Australia or Canada. As with any move to a new location there are pros and cons. The pros in this instance being finding a job that isn't a scheme, that pays a wage and lasts more than 9-12 months. The cons being, having to move away from family and friends, to leave the creative network that I have spent the past four years building, starting from scratch in a new town and leaving a place I am very fond off.
 
"As I have plenty of time on my hands I would be more than happy to meet with any of the elected officials I have contacted to discuss what is not necessarily a situation exclusive to me but to many others like me. I would like for my experience of unemployment to be recorded and utilised to improve matters in this county and beyond," Paul concludes his letter. 
Not impressed
Having received a reply from Helen in the Minister's office last week, Paul complained that she bragged about there being an increase in employment. However, his argument is that these statistics are due to employment schemes specifically designed to do just that, improve statistics rather than improve people's chances of finding long term employment.
He wrote by return: "You also brag about government programmes such as Jobbridge which are the very things I am complaining about.
"Basically you aren't prepared to discuss my situation but instead throw a load of jargon and statistics that says I am wrong. Why have you given me information on ICT? At what point did I say I was involved in ICT, Agriculture or Fishing? When I talk about having my frustrations compounded by disrespectful attempts to placate, this is the very thing I mean. 
"When someone writes to an elected minister they do not wish to be fobbed off by a member of staff who as far as I am aware is not elected by anyone," he concludes. 
Posted: 10:39 am August 18, 2014